Tensions Run High! Teresa Giudice And Melissa Gorga Forced To Confront Their Demons In Wake Of Tweeting Scandal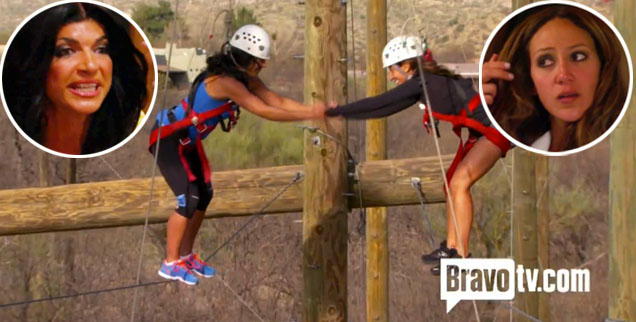 On the upcoming episode of The Real Housewives of New Jersey, tensions run high as Teresa Giudice and Melissa Gorga have to test their trust again and figure out how to unite to address those they believe are defaming their family.
In the first part of a preview video, Melissa and Teresa have to walk a high-wire to see if they have learned to trust each other again.
"You really need to trust who you're with up on this high-wire, so this is the ultimate test," Melissa tells the cameras before harnessing up.
Article continues below advertisement
But once up in the air, something goes wrong with the trust exercise and Melissa pulls Teresa off of the wire.
GALLERY: The Giudice's 30 Most Shocking Quotes About Fraud & Finances
"Make it stop swinging," Teresa screams. "Get me down!"
As the trip in Arizona continues, tensions mount as Joe Gorga confronts his wife about some nasty tweets he has received.
"I was getting these tweets, said some nasty things about you, and I'm tired of it," he tells her.
Melissa replies, "We're going to try to move on from it."
Could Joe be addressing the rumors that surfaced earlier in the season that accused Melissa of cheating on him?
"It's sad because I want to enjoy this moment, but I feel like it's never going to end," Joe complains to the cameras.
Now it sounds like the RHONJ crew has decided that it's time for Teresa and Melissa to corner the person spreading the rumors as a united front.
Article continues below advertisement
"I'm not letting somebody smash your name," Joe tells Melissa as the group gathers for a heated discussion of how to handle the situation.
Kathy Wakile yells at Teresa, "You and your brother unite and send a message to her to stay the f*ck out of our family."
Caroline Manzo shares some impassioned advice: "You gotta show her, 'You ain't breaking us because we're standing here united. Now what you gotta say?'"
But Teresa doesn't appear to want to confront the woman spreading the rumors.
"She can go f*ck herself!" she shouts. "You think I'm going to give her the attention?!"
Caroline's husband Albert Manzo has had enough of Teresa's sit-back approach and is tired of the Giudices and Gorgas fighting.
"Confront those pieces of garbage united like you used to be," he directs at the two families.
"That's what I want to f***ing see," Joe professes as he smashes something against the wall.