Shock Confession: Russell Brand Admits He Had Sex With A Man After 'Trawling Gay Bars'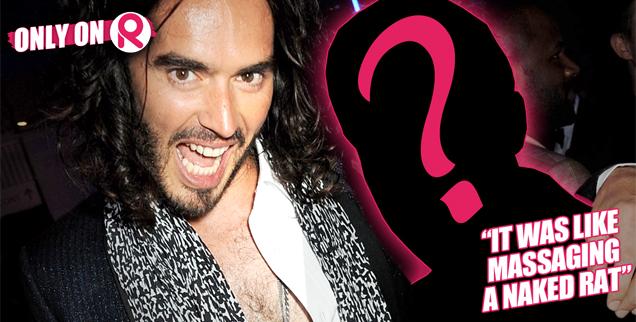 His ex-wife Katy Perry sang about kissing a girl and liking it. But Russell Brand has admitted he went one step further – relieving a complete male stranger in a pub toilet in London.
And the 38-year-old firebrand says the shocking incident was all part of a television stunt for a British documentary series he was working on at the time!
Called RE:Brand, the program was the comedian's attempt to explore social taboos.
Article continues below advertisement
Brand recounted the story in a podcast interview with fellow British comedian Richard Herring unearthed by RadarOnline.com.
He says: "I w**ked off a man in a toilet. I thought, 'I think of myself as heterosexual but perhaps that's 'cause of the environment that I grew up in where homosexuality may have been difficult for me to express.'"
Admitting that he was in the grips of heroin addiction at the time, the reformed Brand goes into graphic detail about the day he looked for a random stranger to be part of the sexual experiment.
soundcloud url="https://api.soundcloud.com/tracks/97828792" params="color=ff6600&auto_play=false&show_artwork=true" width="100%" height="166" iframe="true" /
"I trawled around Soho…going to various gay bars, gay gyms trying to pick people up with a film crew," says the Get Him To The Greek star.
"I went in this pub and I goes: 'Anyone want me to wank them off?'
Article continues below advertisement
"And this bloke goes, 'Yep'. Like as if I was saying: 'Does anyone want a packet of crisps potato chips from the bar…?'
"So we goes to the lavvy – me, him, the director – and…he gets his willy out. And it was not nice. The phallus is…I like mine and you see some others in paintings that look all right but his looked like a rag."
As the live audience titters at his cringe-worthy tale, Brand describes what it felt like to massage the strange man's penis!
Article continues below advertisement
"So I take down my trousers and pants…and then the bloke sort of mauled at my genitals while I wanked him off."
Brand was determined to do a good job. He says: "I'm such a sex narcissist that, even though I'm not gay, I still wanted to be good at giving him a wank…"
The whole incident eventually came to a messy conclusion. Brand says that "after about 27 and 11 minutes, he spat a string of grey j**m."
Earlier in the interview the comedian says: "My hand feels all funny just remembering…He was a right weirdo."
The handjob episode was one of just a series of social taboos the comedian admits he explored in a "very irresponsible, cavalier, slapdash fashion…"
Brand also had a bath with a homeless person, lived with a Nazi, French-kissed a "little old lady" and stayed with a prostitute and her family.