Deadly Thrill: Cleveland Kidnap Monster Ariel Castro May Have Died From Auto-Erotic Asphyxia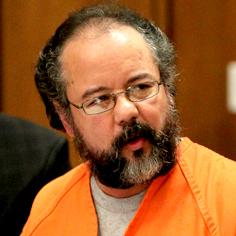 Cleveland kidnapper Ariel Castro may have died the same way of actor David Carradine -- auto-erotic asphyxia and not suicide -- a practice that is one of the greatest and most dangerous sexual taboos, a new report reveals.
Castro's pants and underwear were pulled down to his ankles when he was found, according to the Ohio Department of Rehabilitation and Correction.
Adding weight to the theory, Castro did not leave a suicide note and "multiple levels of assessment" did not find tendency toward suicide, the report said.
Article continues below advertisement
There was also "no evidence of serious mental illness or indications for suicide precautions were present," a comprehensive mental health evaluation found.
Castro, 53, was serving a life sentence after pleading guilty in August to kidnapping three women from the streets of Cleveland, then imprisoning them in his home for a decade during which time he repeatedly raped and beat them.
The death could focus renewed attention on the sexual practice that claimed the life of Carradine, the 72-year-old Hollywood actor who was found dead in a Thai hotel room closet in an intricate web of ropes -- one around his neck, another around his genitals and the two tied together.
Like Castro, the death of rocker Michael Hutchence, the late lead singer of the INXS, was ruled a suicide, but it later emerged he was found naked, hanging from his leather belt in a Sydney hotel room with pornographic literature at his feet and no suicide note.
It's thought he too died of auto-erotic asphyxia.