Exclusive
Inside Paris Jackson's New Life: Holed Up In Therapeutic Boarding School, Recovering From Suicide Bid Using Horse Therapy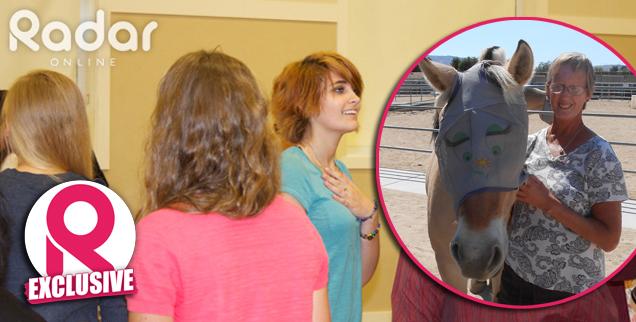 Paris Jackson is recovering from her suicide attempt using horse therapy at a top-secret school, RadarOnline.com can exclusively reveal.
The troubled 15-year-old has been holed up at the exclusive school in Utah ever since she left hospital after trying to commit suicide in June. The daughter of the King of Pop she slit her wrists with a meat cleaver before swallowing 20 Ibuprofen pills in a desperate attempt to take her own life.
Article continues below advertisement
RadarOnline.com has chosen not to name the private therapeutic boarding school in Utah, where Paris has been living since mid-July under the pseudonym "Frankie."
Paris love of horses began when she started spending time with her birth mother Debbie Rowe at her horse ranch in Palmdale, Calif.
Rowe family friend Lisa DeJaynes runs a horse therapy centre called Saddles Up near Debbie's Painted Desert Ranch.
"Horses can solve all her problems," DeJaynes said.
"Paris will feel a bond with the horse, have a relationship with the workers and start building relationships up again. It's a safe place away from the cameras.
"Horse therapy in schools like where Paris is are a great idea. It keeps their mind occupied and rather than thinking about themselves, they need to look after another individual. They will be responsible for the animal.
Article continues below advertisement
"For the first time, they won't have to worry about their own problems, but concern themselves that the horse is being fed, gets their medication, is cared and groomed for properly and gets the right attention.
"There's no judgement, just unconditional love. Just by touching, brushing and riding it, they can start feeling better.
"It's empowering and gives them perspective on their own lives."
The school boasts about its "equine-assisted psychotherapy" on its website.
Article continues below advertisement
Joan Blank runs Dreamcatcher Of Los Angeles and has worked with troubled teenagers just like Paris.
She explained what sort of therapy the Jackson heir will be going through at the facility, where tuition is $14,000 per month.
"The horse is a prey animal, but it is very relaxed senses when it comes to humans. They give instant feedback without any judgement. The relationship is very positive with the horse," the certified therapeutic riding instructor told Radar.
"They almost know your moods before you do! They have a high sensitivity and natural tendency to like humans and will give unconditional love. They are naturally curious as well, it just taps into a lot of the areas and issues that Paris will have been having.
"For some exercises, there will be a mental health specialist helping her and an equine specialist who will be doing exercises with the horse. Equine therapy is now a very traditional form of therapy.
Article continues below advertisement
"Working with troubled teenagers with the horse, brings out the feelings and emotions that she will be having. More comes out of working with an animal in the outdoors than happens in a therapist's room."
As we previously reported, the King of Pop's daughter is clearly well on her way to making a courageous comeback.
A "thriving" Paris was snapped on July 18 at the school's graduation ceremony – surrounded by newfound friends who have shared similar struggles, as they bid farewell to some of the school's alumni.
"Paris was high in spirits," an onlooker told RadarOnline.com, revealing that she wore bracelets to cover the scars from where she slashed her wrists.
The occasion marked the first time she has been seen in public since the suicide bid, when she had cropped brown hair and a distinct gothic look.
But it's not just her hairstyle that's changed: At the luxurious and rural school, Paris has decided to live under a nom de plume, in a bid to make an unremarkable return to a more normal life.
"Paris wanted to come into the school without fanfare, so she decided to change her name, to Frankie," a source revealed. "She also dyed her hair. Some students still know who she is, but overall, most don't. She's just another girl from Los Angeles named Frankie. In many ways, it's a new life for Paris."
If you, or anyone you know, is struggling with thoughts of suicide, please immediately seek help ‹ you can speak with a skilled, trained counselor at a national Suicide Prevention Lifeline crisis center in your area, anytime 24/7 — call 1-800-273-TALK (8255).