Exclusive
Michael Jackson's Daughter Paris To Spend Summer With Birth Mom Debbie Rowe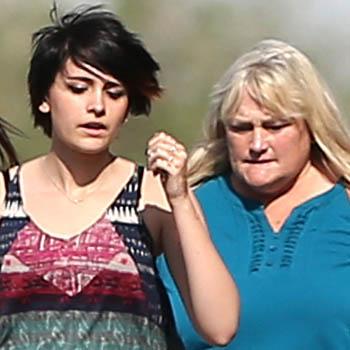 Paris Jackson, the daughter of the late King of Pop, is about to ramp up her get-to-know-mom plans, Jackson family sources tell RadarOnline.com.
The 15-year-old has told her 83-year-old grandmother Katherine that she plans on spending a large chunk of her summer vacation with her biological mom Debbie Rowe at her horse ranch outside in Palmdale, Calif, we've learned.
"Paris will be with Debbie at her house in Southern California this summer when the school year is over," an insider revealed.
Article continues below advertisement
"She might go to summer school for the first month of vacation, but will be with Debbie on the weekends and plans on being with her mom in July and August. Paris wants to spend as much time as possible with Debbie and this is the perfect time."
As RadarOnline.com previously reported, Paris celebrated her recent birthday with Rowe, who married Michael Jackson in 2006. It marked the first time the mom-and-daughter duo had been seen in public together since she was an infant.
The pair has also bonded over horseback riding on Debbie's farm.
"This is very important to Paris and while grandmother, Katherine, will miss her over summer, Katherine supports Paris' plans and keen interest in getting to know her mom," the source added.
Added the insider: "Paris and Debbie are quickly finding out how much they have in common -- a love of animals and being outspoken! Paris definitely takes after Debbie because they are both straight shooters and don't take any nonsense from anybody."
Rowe, a former nurse, is the biological mother to Paris and Prince and was married to Jackson for three years.