No Fight Club Here! 'Stoned' Brad Pitt Begged Mike Tyson 'Dude, Don't Strike Me' During Confrontation After He Started Dating His Estranged Wife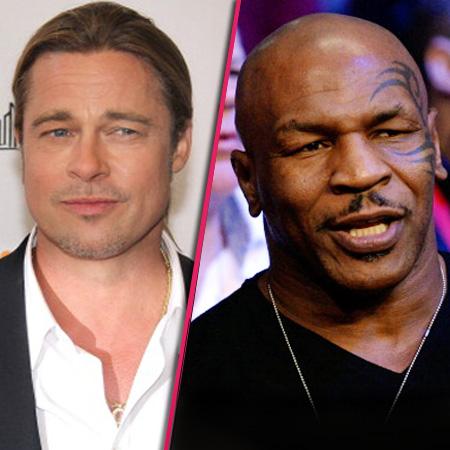 A red-eyed Brad Pitt didn't want a black eye from Mike Tyson, the legendary boxer writes in his new book, saying the then-unknown actor pleaded with him, "Dude, don't strike me," during a tense encounter while they were both romantically involved with Robin Givens.
In the book, Undisputed Truth, Tyson alluded to the celebrity love triangle -- Brad's first, but not his last -- when he showed up at Givens' house to find the future A-lister, groveling and out of sorts, saying, "You had to see the look on his face.
Article continues below advertisement
"He looked like he was ready to receive his last rites," the boxer said. "He also looked stoned out of his gourd."
In an interview with Conan O'Brien last year, Tyson joked he "went from a hard stallion to a wet noodle" on another occasion he visited Givens to find the hunky Thelma & Louise star.
He recalled, "As I go to my car she drives up ... with the handsome Brad Pitt," adding he though to himself, "Aw man I ain't getting' no p***y tonight!"'