Maddie Mom Missed 'Kidnapper' By Minutes: Kate McCann Reveals She Heard A Door 'Slam Shut,' Saw Curtains Moving At Open Window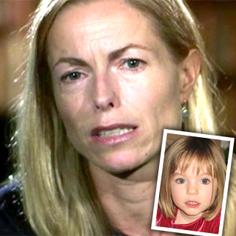 Madeleine McCann's mother Kate, speaking on the BBC's Crimewatch Monday, explained how she might have missed a run-in with her daughter's kidnapper by mere moments, based on a revised timeline authorities have released.
The near-miss took place on May 3, 2007 at 10 p.m. at the family's vacation apartment in Praia da Luz, Portugal during their vacation, when Kate returned from a nearby tapas bar to check on her children. Kate said that when she went to look in, she heard a door slam, saw movement on the curtains and detected a window open, at which point she "stopped and listened in the living room for a bit.
Article continues below advertisement
"At that point the curtains, which were closed, kind of whooshed and I could see that the window had been pushed right open and the shutters were up. It was all quiet, but it caught my eye that the children's door was quite far open," Kate, 45, said. "As I was just drawing it over, it was like it had been caught by a draft and it just slammed shut.
"I opened it a bit, I kind of looked into the room and I guess I was looking at Madeleine's bed and I couldn't make her out."
Kate continued, "I thought, 'I wonder if she's woken up and gone into our bed'. She wasn't in our bed and that was the first time I guess, you know, when the panic kicked in … so I kind of knew straight away then that Madeleine had been taken."
In another new twist in the international case, officials said that more than 1,000 calls and emails were issued after Crimewatch aired, based on e-fits of suspects released.
Article continues below advertisement
"Crucial information has come from two separate callers," Metropolitan Police Det. Chief Inspector Andy Redwood said. "We are very grateful for the response."
After an unidentified British man was questioned and cleared in the incident, Redwood said that a revised timeline of events "takes us through to a position at 10 p.m. when we see another man who is walking towards the ocean, close by to the apartment, with a young child in his arms.
"This child is described as being about three to four with blonde hair, possibly wearing pajamas, and the man is white with dark hair," Redwood said
He added that the man whose face is seen in the e-fit release remains the prime suspect in the kidnapping. The man is described as white, in his 30s, medium height and build, with short brownish hair.
Redwood said he's got trips slated to Holland and Germany this week to continue the investigation. He added that a monumental spike of burglaries in the area at the time led him to speculate that "possibly, there is a scenario where Madeleine could possibly have disturbed someone trying to commit a burglary."