Major Break In Missing Madeleine McCann Case: Police Release Photos Of Man Wanted For Questioning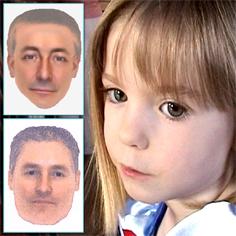 There has been a major breaking in the case of missing Madeleine McCann and RadarOnline.com has the sketches of a man wanted for questioning in her 2007 disappearance.
Scotland Yard released two computer generated photos of a mystery man in hopes that his picture will help identify who took the young girl from a Portuguese resort six years ago.
"While this man may or may not be the key to unlocking this investigation, tracing and speaking to him is of vital importance to us," Det Chief Inspector Andy Redwood said, asking that anyone with information about the man please contact the authorities.
Article continues below advertisement
The man is approximately 20-40 years old, Caucasian, and had short brown hair. His nationality is not known but witnesses have come forward to help and identify him.
The Sunday Mirror reported that an arrest was made related to Madeleine but the authorities would not comment on the connection to the case.
Madeleine's case has been reopened by the authorities who are working with her parents, Kate and Gerry McCann, and they said that new details have emerged.
"The timeline we have now established has given new significance to sightings and movements of people in and around Praia da Luz at the time of Madeleine's disappearance," Redwood said, with the original time of her disappearance thought to have been about 9:15pm from the resort room her parents were renting.
"Our work to date has significantly changed the timeline and the accepted version of events that has been in the public domain to date.
"It has allowed us to work with Crimewatch to build the most detailed reconstruction as yet, and highlight very specific appeal points," he said of the BBC television show that will air Monday night with the new crime details.
"I hope that when the public see our investigative strands drawn together within the overall context of that appeal, it will bring in new information that moves our investigation forward."