Madeleine McCann's Parents Appealing To TV Audience For Daughter's Return; Authorities Feel Suspect Could Be Exposed As Result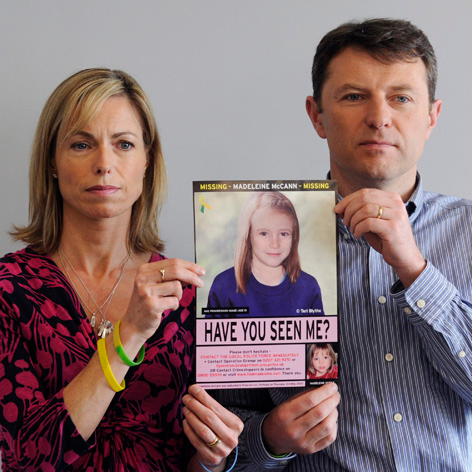 Madeleine McCann's parents continue their vigilant quest to reunite with their missing daughter, as the embattled couple plans to appear on BBC's Crimewatch Oct. 14 to plead for her safe return, six years after the then-3-year-old went missing during a May 2007 family vacation in Praia da Luz, Portugal.
An insider told UK's Daily Star Kate and Gerry McCann "hope whoever has their daughter, or any of their family and friends, will see their new appeal and come forward."
Article continues below advertisement
Authorities are hoping the mass exposure will help illuminate whoever the suspect is, police sources tell the UK Mirror, noting that "millions of viewers are due to watch this appeal, which could lead to a significant new breakthrough.
"We are hoping witnesses with vital information will call in and that arrests will be made. There could even be arrests as the show is being screened which has happened with previous Crimewatch appeals."
The parents -- who were interrogated as suspects in Portugal, but later cleared of any wrongdoing -- are hoping that the kidnapper will succumb to guilt and turn themselves in.
Jim Gamble, a one-time executive with the Child Exploitation and Online Protection Center, said that the televised special should narrow focus the spotlight on who the perpetrator is.
"They will be continuing to look over their shoulder waiting for the knock on the door; they will not be able to avoid this, the global reach of the media; they need to recognize that we are closing in on them," he said, adding, "I believe in my lifetime we will find what happened to Madeleine."