Star-Crossed? See What Liam Hemsworth's Sister-In-Law, Billy Ray Cyrus Have To Say In Wake Of Miley's Breakup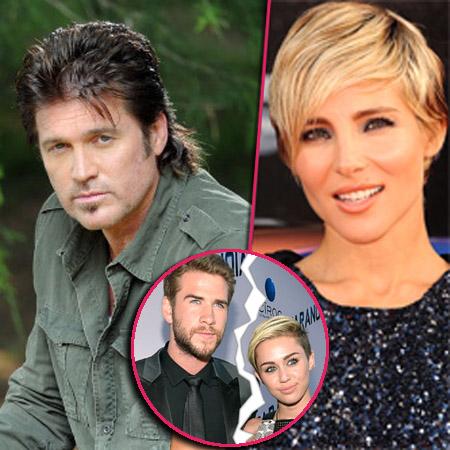 Just weeks after Miley Cyrus and Liam Hemsworth split, RadarOnline.com has learned that one woman had a lot to do with the formerly engaged couple's breakup. But it wasn't a new love for Liam that ended it all; according to a source, it was his sister-in-law, Elsa Pataky who urged him to give Miley the axe!
Elsa, the wife of Liam's big brother, Chris Hemsworth, "is no fan of Miley," a source close to the Hemsworth family reveals. "She spent the last year freezing Miley out in some kind of passive-agressive move."
Article continues below advertisement
Indeed, though close at one point, the couples had spent barely any time together in recent months.
And now that Cyrus and Liam have called it quits, the source says, "Elsa is totally against Miley and Liam getting back together."
"Miley desperately wants to get back with Liam and believes she can because she's done it before," the source insists. "But to do that, she's going to have to win over Elsa!"
Pataky, meanwhile, is making friends with other Hollywood A-listers. Since giving birth to her daughter, India Rose Hemsworth last year, she's bonded with Matt Damon's wife Luciana. Says the source, "She's much closer to her than to Miley."
And Liam's brother Chris has spoken out to say that he's glad he has a relationship that's very different from the one Liam had with Cyrus.
"I'm lucky," he told Ellen DeGeneres the day after Liam announced his breakup from his fiancèe. " … we've been lucky, my wife and I. We kind of live a pretty simple, boring kind of life. We're not rolling out of clubs at 4 in the morning. Not to say that Liam is, by the way. Well, he has once or twice!"
Article continues below advertisement
Liam has since moved on with Mexican actress and singer Eiza Gonzalez, while Miley's been linked to producer Mike WiLL Made It and NYC party boy Theo Wenner.
Speaking with Entertainment Tonight's Nancy O'Dell Monday, Miley's father Billy Ray lent his two cents on the issue
"All I know for sure is I heard my daughter say today she's the happiest she's ever been in her life immediately following" the split, the "Achy Breaky Heart" singer said. "That's when I saw Miley being so happy.
"Somewhere along the stress and strain of different things I didn't see her smiling as often for a little while and all of a sudden she's like the sun, and when she smiles it's light," he added. "Everything happens for a reason, and the main thing for me, as Miley's daddy, is she's happy."
For the chat with Billy, check out Entertainment Tonight Tuesday.