It's Over! Miley Cyrus And Liam Hemsworth Confirm Their Split, Engagement Is Off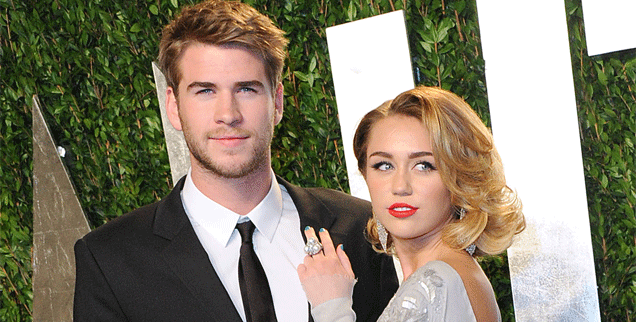 Article continues below advertisement
Confirmation of the split comes after a report that Hemsworth, 23, was caught canoodling with another woman at the Toronto Film Festival on September 7.
Then on Sunday night the Hunger Games hunk was spotted flirting at a Las Vegas nightclub with 23-year-old Mexican actress and singer, Eiza Gonzalez.
"They never left each other's sides. They were with a few people and spent a few minutes at the VIP DJ stage table. They then headed back to a more private VIP bungalow cabana near the pool," an eyewitness told Life & Style.
"They had drinks and talked in the bungalow. They left together with the rest of the group around 2 a.m."
As RadarOnline.com previously reported, the one-time couple have been leading separate lives for quite some time — last photographed together in public on August 8.
"Liam really does care about Miley, but her racy new look and sort of ghetto attitude isn't exactly what he signed up for," a pal previously told RadarOnline.com.
"Her VMA performance absolutely mortified him and he couldn't be more embarrassed. He doesn't really see anything sexy about what she did on stage."
Complicating matters, those in Hemsworth's inner circle have long been encouraging him to part ways with Cyrus, 20, because the increasingly risque star could damage his reputation.
"Liam is a serious actor with a growing career, whereas Miley has just turned into a joke."