Exclusive
Miley Cyrus & Liam Hemsworth -- Officially On A Break, Wedding On Hold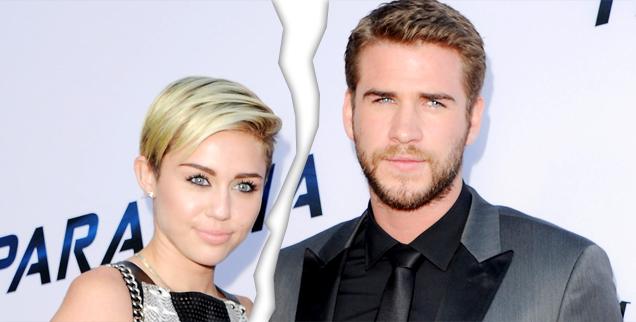 First came the twerking and the sledgehammer, then, at the weekend, we saw the first real indication that Miley Cyrus and Liam Hemsworth were done and dusted -- she unfollowed him on Twitter.
Now, a source close to the on-again, off-again couple confirms what everyone has feared: The ex-Disney starlet and her Australian hunk are officially "on a break."
"They've split for now," the insider told RadarOnline.com. "Miley and Liam have a very tumultuous relationship and both are exhausted. It's a complicated relationship. The wedding is on hold, for now. It's not cancelled but it doesn't look promising."
Article continues below advertisement
Read Angry VMA Viewers' Complaints To The FCC
Confirmation of the split comes after a report that Hemsworth, 23, was canoodling with another woman at the Toronto Film Festival.
According to Page Six, the Hunger Games star was "locking lips with a random brunette" at LDV Hospitality's pop-up club Bungalow 8 on the Thompson Hotel rooftop on September 7. Later, "they left together."
A rep for Hemsworth has insisted: "There is no truth whatsoever to any of this."
But as we previously reported, Hemsworth's frustrations with his partner of almost four years have been bubbling since her controversial performance alongside Robin Thicke at the MTV VMAs.
"Liam really does care about Miley, but her racy new look and sort of ghetto attitude isn't exactly what he signed up for," a pal told Radar.
"Her VMA performance absolutely mortified him and he couldn't be more embarrassed. He doesn't really see anything sexy about what she did on stage."
Complicating matters, those in Hemsworth's inner circle have long been encouraging him to part ways with Cyrus, 20, because the increasingly risque star could damage his reputation.
"Liam is a serious actor with a growing career, whereas Miley has just turned into a joke."
The couple was last seen publicly at the Los Angeles premiere of his movie Paranoia on Aug. 8.