Get Out! Moving Truck Spotted Leaving Miley Cyrus' House After Breakup With Fiancé Liam Hemsworth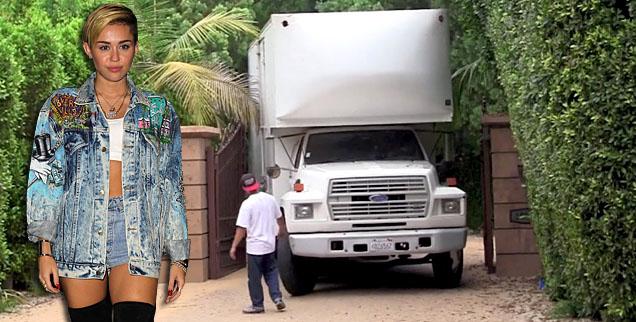 Moving day! Miley Cyrus and her fiancé Liam Hemsworth have called off their engagement and it looks like there is no going back now because RadarOnline.com has photos of a moving truck leaving her mansion on Friday.
The 20-year-old twerking queen has been shacking up with the Aussie hottie in her LA pad, but a truck left through her fancy gates giving signs that he may have moved out all of his belongings.
Article continues below advertisement
As RadarOnline.com previously reported, Miley's lewd performance with Robin Thicke at the 2013 MTV VMAs was what finally embarrassed Liam enough that he ended their engagement.
"Miley and Liam were already pretty much broken up at that point, but when he saw her performance and the backlash it created, it was the nail in the coffin," a source exclusively told Radar.
"That was all he needed to finally break up with Miley once and for all. He was embarrassed, disgusted and mortified by her performance."
The couple announced that they are over and Liam was a gentlemen in the process, letting Miley keep the giant ring he gave her.
And Liam has clearly moved on, hooking up with a new girl, Eiza Gonzalez, while Miley promotes her new album Bangerz and it looks like she's cleaning house and moving on with her own single girl life.