Exclusive
Is Kanye A Monster? Simon Cowell Says Success 'Enables' West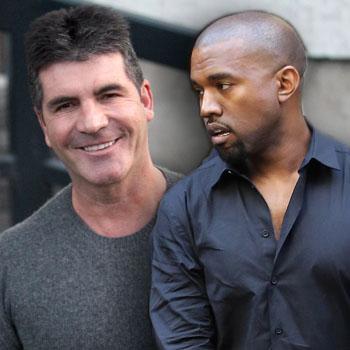 Simon Cowell is heading into dangerous territory by criticizing the success that has enabled the "monster" that Kanye West has become, especially after declaring himself the number one rockstar on the planet.
The reality television mogul, and dad-to-be, is on the search to find the next person with the X Factor, but does he believe West deserves the title of "number one rockstar on the planet?"
"I have an expression which is that success doesn't create the monster, it enables the monster," Cowell told omg!INSIDER.
Article continues below advertisement
His comment about West's out of control ego comes on the heels of his epic meltdown and fight with talk show host Jimmy Kimmel.
An insider explained to RadarOnline.com the beginning of the West/Kimmel fight.
"Well, we have been playing back clips from his interview in London in which he talks about how brilliant he is and cutting-edge and how he wants to anchor the worlds first trillion-dollar company. We then hired children to re-enact that interview.
"Jimmy enjoys the fact that Kanye is a malignant narcissist and megalomaniac and that his ego knows no boundaries."
It seems like Cowell agrees with Kimmel, do you? Tell us in comments.