Exclusive
'Dallas' Star Josh Henderson Says 'J.R.'s Spirit Lives On' After Larry Hagman's Death Despite Emmy's Snub: 'I Thought He Deserved More'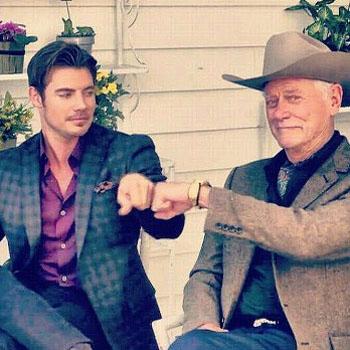 What's Dallas without J.R. Ewing? The cast and crew of the TNT series are finding out, as they enter their first year filming without the iconic Larry Hagman, who passed away last November. Speaking to RadarOnline.com from Dallas, where filming for Season 3 is underway, Josh Henderson spoke about moving on without the show's backbone, and revealed, "His spirit lives on."
"It's the first year without Larry," Henderson tells RadarOnline.com. "We're into episode two right now, and luckily I talk about him just about every other scene."
Article continues below advertisement
He explains, "As long as this show is on the air, the spirit of J.R. will never die."
But like many others, Henderson admits, he was disappointed by the quick treatment Hagman got during the Emmys "In Memoriam" segment.
"I felt he deserved more," Henderson says. "… He's the most iconic television figure of all time. Anyone that would want to argue that, well you kind of can't."
"It doesn't matter where you go in the world, they know J.R.," Henderson continues. "His career speaks for itself. The Emmy's snub isn't gonna knock what he did and the work he did his entire life. It's all good. Larry's the man and nothing's going to change it."
Henderson's real-life hero, however, is his grandfather, who was a first responder in Dallas. "He was a firefighter and he died in a fire," Henderson reveals. "He woke up in the middle of the night with six kids and his wife, and left all of them to go and do his job and he never came home. It doesn't get much more heroic than that."
As a tribute to his grandfather, and other heroic first responders, Henderson joined up with Duracell to present more than 100,000 new Duracell Quantum batteries to the Texas A&M Forest Service and Dallas Fire Rescue at Trinity River Audubon Center on October 15.
Duracell is donating one million of the Quantum, a long-lasting alkaline battery, to first responders across the country who use them for life-saving equipment.
"Working with Duracell is a great way to continue my grandfather's memory and shake the hands of the first responders," Henderson says. "I think that anybody in the first responder business, any day could be your last. This campaign is about helping the first responders save lives, and helping them feel safe too."