She's His Million Dollar Baby! Clint Eastwood Lavishing Gifts On New Girlfriend... As Wife Dina Files Paperwork To Halt Divorce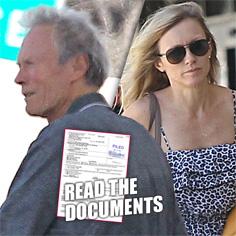 Is Oscar-winner Clint Eastwood's latest role sugar daddy?
The 83-year-old "Dirty Harry" star is lavishing gifts and cash on a hot new blonde girlfriend who's half his age, even though his divorce from wife Dina after 17 years isn't even finalized, according to a new report.
You'll remember: Clint hooked up with 42-year-old Erica Tomlinson-Fisher after Dina filed for a legal separation on September 9.
Article continues below advertisement
In a strange love triangle twist, Dina had reportedly turned to Erica's ex, Scott Fisher, post-split.
In recent weeks, however, Clint's rebound romance has carried a hefty price tag, the National ENQUIRER reveals.
"He's not only moved Erica into his Los Angeles home... but also he's bought a brand-new silver Mercedes Benz that Erica's driving around Hollywood," a source said.
Erica "has no job, no resources, no money... but almost every night, Clint takes her out to fancy restaurants and expensive dinners. And Dina says Erica's even gone through her closets at Clint's L.A. home after he told her to take whatever clothing she wants."
Article continues below advertisement
Interesting side-note: Clint's largesse has reportedly even extended to his girlfriend's kids as well: According to a source, Clint got Erica's son, Mason, a job as a production assistant on the set of his much-anticipated new film, Jersey Boys.
For more information on Clint's new sugar baby and her secret campaign to turn him against Dina, pick up the latest issue of the ENQUIRER, on stands Thursday.