Rebounds, Scores! Clint Eastwood Caught With Hot Blonde … Who Was Married To His Estranged Wife's New Man!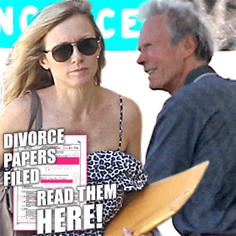 Wife swap alert.
Clint Eastwood's marriage from wife Dina is over, but he's hardly sitting around talking to empty chairs in his living room!
According to the National ENQUIRER, the 83-year-old hosted a hot 40-something blonde at his Los Angeles home in late August. He was spotted dropping her off at Los Angeles International Airport on August 31 -- and she's since been identified as Erica Tomlinson-Fisher, the ex-wife of the man who Clint's own ex, Dina, turned to in the wake of their split!
Article continues below advertisement
It's all a little head-spinning.
"Things have really taken a very strange turn," a source told the ENQUIRER. While Dina is back dating her high school sweetheart, University of Hawaii basketball coach Scott Foster, Clint is now dating Scott's ex-wife, Erica.
"Erica has spent time at Clint's Los Angeles home, and they seem to have bonded over Dina's relationship with Scott," the source explains.
For Erica, at least, it shouldn't be too painful since she's been separated from Scott for more than three years.
According to divorce documents exclusively obtained by RadarOnline.com, the couple's date of separation was June 27, 2010, nearly ten years after their July 2002 marriage.
Erica was unemployed at the time of the split, and with only a high school diploma to her name. Scott agreed to pay her $500 per month in alimony to supplement her unemployment benefits, but those payments ended on March 5, 2013.
Article continues below advertisement
GALLERY: Hollywood Divorce Lawyers Tell All — Prostitutes, Cross Dressing, Drugs & More Shocking Split Secrets
Now, Clint is facing his own $375 million divorce from Dina. But it's not likely to be dirty. Dina spoke out Tuesday in support of her still-husband.
"I don't like reading negative things about Clint," she tweeted. "He is a good natured, brilliant person. No matter what, I attest to that."
Says the source, "With Dina confirming the split, the next step will be the divorce. After that, who knows? A wife swap certainly isn't beyond the realm of possibility."