Do Not Talk To Me! Leaked 'Demand' List From 'Rude' Anne Hathaway Reveals No Photo & Autograph Edict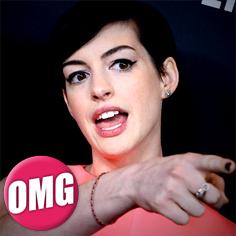 Before Anne Hathaway agreed to attend a cancer research charity event, the actress made sure the event staff were made aware of her long list of demands, RadarOnline.com has learned.
An email to those working the Oct. 19 Pink Party Gala in Santa Monica says her team was getting "really concerned" that people would try to approach Hathaway for photos and autographs.
"Everyone was asked not to talk to her," a source told In Touch about the Oscar winner's outrageous requests.
Article continues below advertisement
The email also notes that other stars who attended made no such demands.
"I know in the past our hosts have mingled in the party, but each person is different. We are trying to respect her space," event staff noted in the email.
At the party, even though guests respected her wishes, the Les Misérables actress didn't seem happy.
"She was so rude and acted like a b*tch to a few people she did speak to," the source revealed.
"She just sat there rolling her eyes all night."