Exclusive
Inside Andy Dick's 'Out-Of-Control' Bender In Palm Springs -- Face Planting, Vomiting In Public & Begging Strangers For Cocaine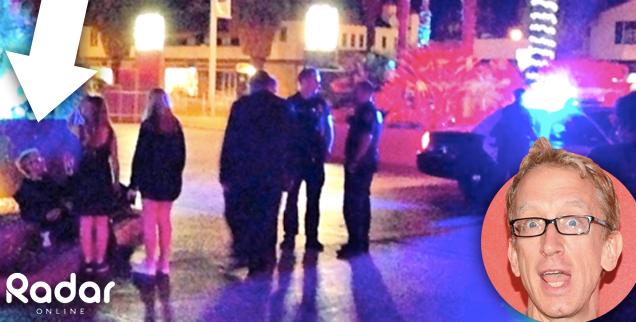 Article continues below advertisement
Now, RadarOnline.com has learned that Dick has gone completely off the rails during a "bender vacation" in Palm Springs, where sources say he has been unceremoniously ejected from several establishments and spotted asking multiple people for cocaine.
At the opening bash for the Hard Rock Hotel Palm Springs on October 3, "Andy was a mess," one eyewitness tells RadarOnline.com. "He showed up with a bunch of girls near the end of the party and he definitely seemed like he was on something."
"He told me he was out in Palm Springs because he was sick of everyone in L.A. using him," the source says. "He said people in Palm Springs don't ask him for photos or anything and he likes that. Then, he asked me for cocaine."
When the source declined, Dick stalked off. He was later spotted sitting in a planter outside the hotel having face planted with police officers watching warily close by.
Multiple sources claim he was asked to leave the event.
Article continues below advertisement
The next night, he showed up at Hunter's nightclub around 9 pm with several friends who were not wearing shirts or shoes.
"They wouldn't let his friends in, so Andy just ran into Hunter's," an eyewitness tells RadarOnline.com. "He threw up in the women's room and then he planted himself on a bar stool."
"I walked by and came up to me and yelled, 'Hey man! Where's the coke?'" the source continues. "When I told him I didn't have any, he shoved me and started screaming. We've met before, but he was so messed up he didn't recognize me. It was more sad than funny."
"When he finally realized who I was, he started complaining that 'the a**holes' at the Riviera Hotel threw him out earlier in the week," the source says. "He seemed in total denial about what a mess he was."
"Andy then started talking to my friend who knows him from AA," the source reveals. "Andy asked him for drugs too. He even asked the bar manager for coke!"
"One of the employees got him water, which he spilled on the floor," the source claims. "He yelled at her, 'If you don't have coke, why are you even talking to me!' At that point we left and walked across the room, but he was still screaming and flipping us off."
The next day, the source says, "I got a text from him that said 'with friends at comfort inn whr r u.' I didn't respond."
Says the source, "Hopefully the story coming out will convince Andy that he needs help."