Sex Scandal Tell-All: Tim McGraw Ex-Band Member Planning Exposé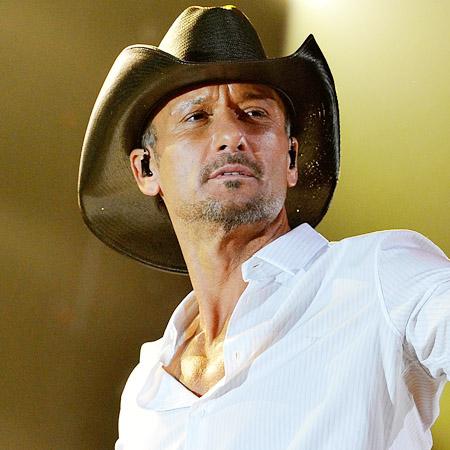 A disgruntled former friend and bandmate of country music superstar Tim McGraw plans on publishing a memoir detailing the singer's homoerotic hijinks, including a photo in which he's slapping another man's bare bottom.
McGraw, an insider tells this week's edition of the National ENQUIRER, is indeed a prankster whose ribs can border on risque, but that's not an indictment on the singer's sexuality (as he's married to fellow country star Faith Hill).
Article continues below advertisement
The aforementioned photo, which shows the 46-year-old singer with his hand on the man's derriere, was taken during a concert in Milwaukee, after "Tim dared his drummer Billy Mason to run across the stage in front of thousands of screaming fans wearing bottomless leather chaps that exposed his butt.
"As Billy did it, Tim reached down and smacked him on his bare backside as a joke -- and the nearly sold-out crowd roared with laughter!" the insider said.
In addition to the image, the insider said the salacious book will include "stories about how Tim made comments, and complimented some band members on the size of their manhood, as they played along with his practical jokes."
When on the road, fellow country singer Kenny Chesney would join in on the fun, another source told the ENQUIRER.
"They would have contests to see who could top the other with the wildest horseplay," the friend said. "And they would trade stories – half of them revolving around someone getting naked and doing something crazy."
Article continues below advertisement
Despite the cavalcade of towel-snapping tales, the insider insists "there is nothing gay about it" and that Tim "is just a huge practical joker."
"The author of the tell-all has openly stated, both orally and in written form, that he believes the twisted games Tim plays makes him bisexual," revealed the insider. "Tim has a huge gay fan base and, actually, he's proud of that.
"But he doesn't want someone on a smear campaign casting aspersions about him that just aren't true."
For more details, pick up the latest issue of the National ENQUIRER on newsstands Thursday.