Tim McGraw's 'Secret Son' Revealed — Singer Reportedly Hid Their Relationship From Wife Faith Hill!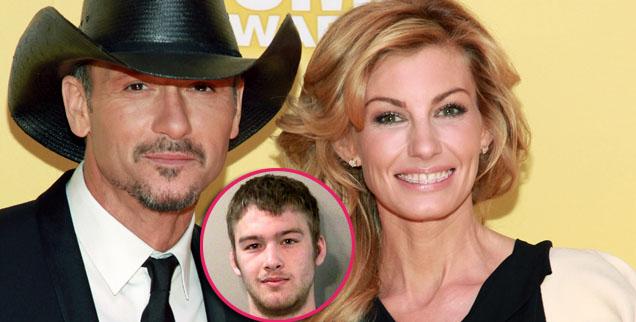 Tim McGraw has been hiding a "secret son" from his fans and even from his wife, Faith Hill, the National Enquirer is exclusively reporting.
Sources have told the Enquirer that the 45-year-old country superstar helped raise Tyler Zarbo during the time he was engaged to the boy's mother, Kristine Donahue.
And, even though he wasn't biologically Zarbo's father, after the couple split, the I Like It, I Love It singer maintained a relationship with the now 23-year-old student from Orlando, Florida -- behind his wife's back, according to the Enquirer!
Article continues below advertisement
"Tim McGraw was like a father to me when I was growing up," Tyler told the Enquirer in an exclusive interview.
"He saw me as the son he never had, and we've stayed in contact. I wish he could have remained as my substitute dad, but it just wasn't meant to be."
To read the full story on Tim's "secret son" and how Faith Hill reacted after finding out about him, pick up the latest issue of National Enquirer -- on newsstands Thursday.