'I Knew Something Bad Had Happened': Roman Polanski's Alleged Teen Rape Victim Describes Sickening Sex Attack In New Memoir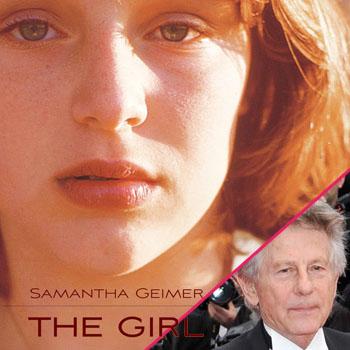 Middle-aged mom and wife Samantha Geimer saw her world come crashing down in November, 2009, when exiled Hollywood director Roman Polanski was arrested in Switzerland on a decades-old warrant for the sexual assault of a teen. Though she'd been happily living in relative anonymity for years, she was the woman, now 50, who Polanski had raped thirty-seven years ago. Four years after her past came crashing back into her life once again, Geimer relives the days leading up to his alleged sexual assault, and the attack itself, in her new book, The Girl.
Article continues below advertisement
Geimer and Polanski had met when the Chinatown director, a friend of the family, asked 13-year-old Geimer's parents if he could photograph their daughter in a test shoot for French Vogue.
Initially excited, Geimer says the first red flag arose when he insisted her mother stay away from the shoot.
"My mom gently suggested she come along on the shoot," Geimer writes. "There was a long pause. 'No,' Roman said, her presence might make me uncomfortable and unable to relax in front of the camera. She didn't fight him; there were already stories about Brooke Shields' crazy controlling stage mother, and she certainly didn't want to be that."
On the day of the shoot, however, things quickly escalated as Polanski pressured Geimer to get naked.
While she was changing her shirt in between shots, "I still heard the click of the shutter," she remembers. "Why was he still taking pictures?"
The 13-year-old didn't get the nerve to say anything, but after Polanski announced the shoot was "not working," he requested she remove her top. She explains, "i felt I had to rise to the challenge … I was a professional."
Article continues below advertisement
Sono after, she writes, "My ticket to stardom showed up again. … Sure the last time was super-uncomfortable, but that was the price of fame." He offered to do another shoot with Geimer at Jack Nicholson's L.A. home and she readily agreed.
On the way over, Geimer says, Polanski asked her if she had a boyfriend and if she had ever had sex. When she answered "Yes … twice," to the latter, she claims, "Roman stopped asking questions."
Upon arrival at the house, Polanski pulled a bottle of champagne from the fridge. Almost immediately after serving Geimer, she says, Polanski asked her to take off her top, and again, she agreed. Switching into present tense, she writes, "Roman seems more pleased. … I must have good shoulders."
"He refills my glass," she writes. "I drink more. He keeps refilling … I'm aware I have a little buzz going. … My glass never gets empty."
Article continues below advertisement
Polanski told her to get into the jacuzzi in her panties, she says, and soon produced a quaalude pill broken into three parts and asked, "Do you think I'll be able to drive if I take one?" She wondered, "Why is he asking me?" He offered several times, she claims, so she finally said yes.
After taking a few perfunctory shots of Geimer in the jacuzzi, Polanski announced the light was insufficient, Geimer says. "He puts his camera down and says he's getting in," she remembers. "He's getting in. I'm fine with taking off my top … But this? No."
"I want out. Now," she writes. "How f*****g stupid could I be? It's a hard thought to hold on to. The water is hot, and the steam is rising into the night … I knew this wasn't right … He pulls me a little closer by the waist and helps hold me up a little and moves me above one of the jets so I can feel the bubble tickling up between my legs. … There's nothing good about it, but I know what he's getting at."
Article continues below advertisement
"Then everything hits at once," Geimer recalls. "The steam, the heat, the alcohol, the pill and the panic. Have you ever been touched in a way that made you want to jump right out of your skin? This man had a reputation as a great lover. The problem is, he was not my great lover. I could have been any girl, as long as I was female and as long as I was young."
Feigning asthma, Geimer climbed out of the jacuzzi and asked to go home, but Polanski allegedly would not be deterred.
"He holds my arms at my sides and kisses me," she claims. "And I say, 'No, come on,' but between the pill and the champagne it's like my own voice is very far away."
Then, he began to perform oral sex, she says. "He asks if it feels good, which it does, and that in itself, is awful," she remembers. "I don't want this, my mind recoils, but my body is betraying me."
"And that's when I check out. I go far, far away," Geimer writes. "There is a sense of complete and utter emptiness."
Article continues below advertisement
When Polanski finished, Geimer says she immediately dressed and went out to the car to go home while he stopped to chat with Nicholson's girlfriend at the time, Anjelica Huston.
"I was happy to know I was going to be home soon," she writes. "But I was exhausted, overwhelmed, and although I didn't realize it, pretty loaded. I started to cry, with both relief and anger. I knew something bad had happened, and that I had done some dumb things, but I was going to be okay."
That night, Geimer later confessed to her family and police. Polanski was then arrested and charged in L.A. with rape by use of drugs, perversion, sodomy, lewd and lascivious acts upon a child, and furnishing a controlled substance to a minor. Upon learning he was likely to face imprisonment, he fled to France and has since avoided returning to the U.S.
After his 2009 arrest in Switzerland, the Swiss court rejected the U.S. request to extradite him and released him from custody.