Lamar Who? Khloe Kardashian Parties With Drug-Using Rapper The Game As She Drops Odom From Her Surname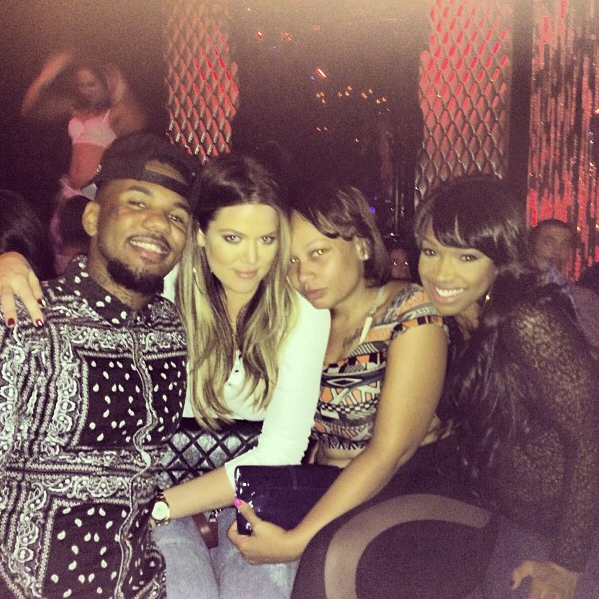 As Khloe Kardashian's marriage to Lamar Odom crumbles amid his alleged drug abuse, she's running right into the arms of her long-time friend, rapper The Game, even though he's admitted drug user himself! Kardashian was spotted with the marijuana enthusiast during a night out at Tru nightclub in Hollywood on Monday.
On Monday afternoon, news broke that Kardashian had dropped the "Odom" from her instagram name, going back to "khloekardashian." And that night, she was ready to celebrate.
Article continues below advertisement
Hanging on a banquette in the popular Hollywood club, Kardashian didn't look like she had a care in the world as she slung her arm around The Game's shoulders for a photo the rapper posted on his Instagram. Also seated with her were BFF Malika Haqq and Marquia Macklin, whose 6-year-old daughter Tiana was killed earlier this month. The Game donated $10,000 to the child's funeral as part of his new philanthropic endeavor, the "Robin Hood Project."
MORE ON:
Keeping Up With the Kardashians
"Positive energy, positive people," The Game captioned the photo. " … in the club enjoying life. #TheRobinHoodProject"
According to reports, Kardashian did not drink alcohol during her night out.
But though she and The Game have been friends for quite a while, he's an interesting choice for support as she deals with Odom's drug use, since The Game is an admitted drug user.
His instagram is full of pictures of marijuana plants and blunts, like those below:
And he's happy to admit his use to anyone who asks, telling one reporter recently, "Let's keep it real. There's a lot of people in high positions even politicians, school teachers, paramedics, doctors who smoke a little weed sometimes. … I smoke!"
Odom's first hint of drug trouble came in 2001 when he failed two drug tests for the Los Angeles Clippers after testing positive for weed.
Kardashian will decide the fate of her marriage after completing filming of Keeping Up With The Kardashians, as RadarOnline.com has reported.