Exclusive
Kris Jenner Urges Khloe Kardashian: Divorce Lamar Odom Now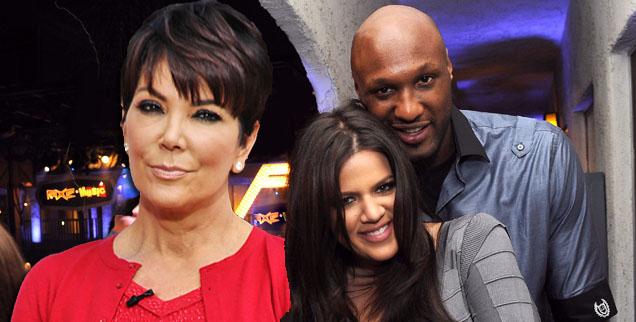 Even though she's been crushed by new cheating claims, Khloe Kardashian is clinging onto what's left her topsy-turvy marriage with Lamar Odom and is STILL refusing to pull the trigger on a divorce, RadarOnline.com has exclusively learned.
That's despite her closest confidante, momager Kris Jenner telling her love-struck 29-year-old daughter that the time is nigh to file court papers to end the pair's four-year-marriage.
Article continues below advertisement
"At Kris' insistence, Khloe did meet with a divorce lawyer...it was something she was forced into doing by her mom. Kris was very heavy handed and said Khloe had a responsibility to her sisters, Kim and Kourtney, and the Kardashian brand to distance herself from Lamar," a source close to the situation told Radar.
"It's all about the bottom line with Kris, and Khloe could care less about that. She is still holding out hope that her marriage to Lamar can be saved."
GALLERY: Hollywood Divorce Lawyers Tell All — Prostitutes, Cross Dressing, Drugs & More Shocking Split Secrets
What's more, the insider tells Radar that Khloe refuses to let go of Odom because her self-esteem is completely wrapped up in her marriage to the former Los Angeles Clipper power forward.
"Khloe's entire self-worth and identity is wrapped up in her marriage and relationship to Lamar. Remember, four years ago, before Khloe married Lamar, she was just sort of fledgling. Kourtney was on her way to having her first baby, and Kim was dating Reggie Bush. Khloe was living with Kourtney in a townhouse, and her life was just lumped into her sisters'," the source revealed.
Article continues below advertisement
"So when she met and married Lamar, it was a huge change for her. It was a chance for Khloe to distance herself from the Kardashian name. All of a sudden, Khloe was getting tons of attention from the media, and she was very popular with Lamar's teammates' wives. She had this huge mansion, a wardrobe to die for, and the man of her dreams. It was everything her other two sister's didn't have."
But even though Odom, 33, is caught in fast downward spiral — currently a free agent unsigned with any NBA team, reports of numerous affairs with multiple women and an alleged drug addiction of smoking crack cocaine and using OxyContin and Ambien — Khloe still envisions a perfect life with him.
"She can't remember what her life what like before Lamar, and she doesn't want to go back to that lonely life. Yes, she has a huge family, but she has always felt that she doesn't fit in with the Kardashian-Jenner clan. Khloe is really low key, and all she has ever wanted was to be happily married and have a ton of kids. She thought she had that with Lamar, but obviously doesn't," the source concluded.
"Is it likely she will give that up anytime soon, or even the idea of it? No. She is still hoping Lamar goes to rehab and gets help, and she wants to give him the opportunity to make the marriage work."