Houston Cop Accused Of Beating Man Who Was Handcuffed, Lying On Stomach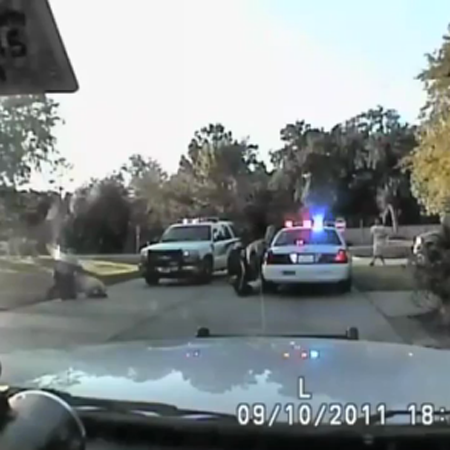 Jimmy Earl Drummond, a Houston lawman, has been charged with official oppression after he was caught on camera beating a man restrained in handcuffs, and lying on his stomach, during an arrest two years ago.
Drummond, who's currently suspended from his position as a captain with Montgomery County Precinct 3 Constable's Office, was working as a Harris County Precinct 4 Constables deputy at the time of the Sept. 10, 2011 arrest of David Braxton Scherz Jr., who said he suffered broken ribs as result of the beating.
Article continues below advertisement
"We were optimistic because of the clear video," Randall Kalliinen, a civil rights attorney, told Houston's ABC affiliate, KRTK. "And the fact that the public was very outraged and there was a lot of public outcry."
"It was very disturbing that someone who weighs 400 pounds, and you can see him putting all his might into it, kicking him five times in the side, breaking his rib, his face was all messed up, then when he's handcuffed, he's got his face into the hot, hot pavement."
Internal Affairs officials in the Lone Star state investigated the incident, and said in court docs Drummond broke police protocol with excessive force during the arrest. They said Drummond's "kicks were gratuitous and furthered no law enforcement purpose," and that "the knee drop and grabbing his head were not necessary and furthered no law enforcement purpose."
Watch the video on RadarOnline.com
Montgomery County officials released a statement on the cop's suspension, saying that "due to the seriousness of this charge, we want to make sure that as an agency we are taking the right steps to display, that the public's safety and concerns are our most important concern."
If convicted, Drummond, who's slated for a court appearance later this week, could be sentenced to jail for up to a year, and face fines up to $4,000.