Exclusive
Eminem Wrote Khloe Kardashian Diss Song Months Before Lamar Odom Marriage Scandal, Insider Says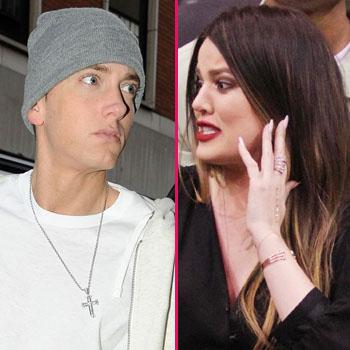 Never one to shy away from controversy, Eminem wrote his track Berzerk -- in which he calls Khloe Kardashian ugly -- months before her marriage scandal with husband Lamar Odom broke, RadarOnline.com is exclusively reporting.
The first single off of his upcoming album, Marshall Mathers LP 2 (MMLP2) has soared to the top of the charts, and it features a verse about Khloe & Lamar.
"They say that love is as powerful as cough syrup and styrofoam / All I know is I fell asleep and woke up in that Monte Carlo / With the ugly Kardashian, Lamar O. Sorry, yo, we done both set the bar low," Eminem raps.
Article continues below advertisement
Eminem's rep, Dennis Dennehy told RadarOnline.com exclusively the track "was indeed recorded without any knowledge of recent news" -- months before the infidelity & drug scandal that is rocking the reality starlet's marriage to the NBA star.
"She has a lot going on in her world right now, and hasn't given it any attention," sources close to Khloe tell us. "But, she is a sensitive girl at heart and had been a fan of Eminem's in the past."
Odom has smoked more than $50,000 worth of cocaine in the past three years, ­ including one wild binge before an NBA game just six months ago, a man claiming to be the star's drug dealer previously told us.
The troubled two-time NBA championship winner's preferred method of substance abuse is to freebase cocaine, a process popular amongst the Hollywood party crowd, by which the drug is purified by burning it and the user then inhales the fumes, the dealer said.
Article continues below advertisement
Meanwhile, the single has received positive buzz from critics, but others have criticized Eminem for his choice of words about Khloe's appearance.
"The fact that Eminem called Khloe Kardashian ugly is horrible," one Twitter user wrote. "She is so beautiful and funny."
Eminem's new album drops on Nov. 5.