Exclusive
Inside Demi Lovato's Intimate New Recovery Book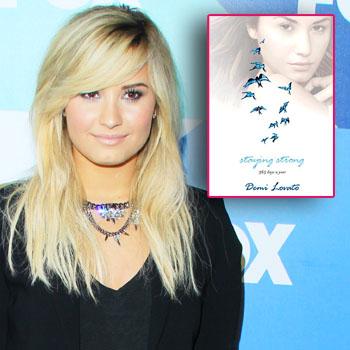 Three years after the rehab stay that saved her life, Demi Lovato has managed to beat her addictions, eating disorder and self-harm issues to rebuild her life as a sober, strong young woman.
"One of the things that has helped me with recovery is taking one day at a time," she said in a video announcement Monday. "I'm a firm believer in starting the day off the right way with inspirational quotes and sort of a morning meditation, so I've put together 365 of my favorite quotes and a morning meditation for everybody."
Article continues below advertisement
Those quotes have been collected for an inspirational book, Staying Strong, and RadarOnline.com has an exclusive look at two of the days of inspiration.
Demi's publisher, Feiwel & Friends, released the January 5 page as an example of what fans can expect. It reads, "There are so many beautiful, talented souls in the world. Don't let anything stand in the way of your potential. I've encountered so many people in my life who tell me that I can't do something. Those people are just testing you and you can't let them bring you down. True friends will lift you up and believe in you. Don't allow anyone to tell you you can't live your dream because if you don't believe in yourself then nobody else will. Goal for the day: Think about one thing you've been holding back on doing and start doing it today. Be fearless."
March 19 includes a quote from New Age spiritualist Miguel Angel Ruiz: "Don't make assumptions. Find the courage to ask questions and to express what you really want. Communicate with others as clearly as you can to avoid misunderstandings, sadness, and drama. With just this one agreement, you can completely transform your life.
Demi writes, "It's better to take the time to ask questions and to find the words to say what you really feel. Often we leave so much room for interpretation either because we are rushing or because we are afraid to speak the whole truth, but this is where miscommunications start. So even if it's hard when you aren't sure about what someone means or how they feel, just ask them. Goal: When was the last time you assumed something and were wrong? Make a point to know the truth and not assume it."
"Demi is a young woman finding her way in the world," a release from her publisher explains. "She has dealt deftly with her struggles in the face of public scrutiny, and she has always relied, not just on friends and family, but daily affirmations of her self-worth and value. Affirmations that steady her days and strengthen her resolve."
Staying Strong, due out on November 19, is "a powerful testament to a young woman standing up and fighting back." Demi's also agreed to release a rehab memoir at a later date.