Exclusive
One Big Happy Family? Charlie Sheen Purchases Beverly Hills Mansion For Rehabbing Brooke Mueller -- Near Denise Richards' Home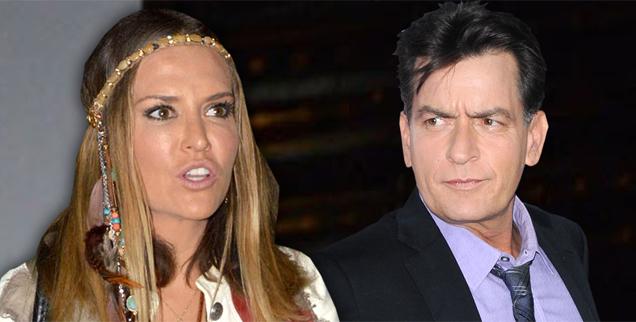 Brooke Mueller hasn't even finished rehab yet, but she's already seeing the benefits of sobriety: Her ex-husband, Charlie Sheen just bought her a mansion in the exclusive Beverly Hills community of Mulholland Estates, RadarOnline.com has learned exclusively.
Mueller had recently moved into former Spice Girl Mel B's Tarzana mansion, "but went ballistic when she heard that Charlie had bought a mansion for Denise Richards in Mulholland Estates, the community where he lives," a source tells RadarOnline.com.
Article continues below advertisement
According to the source, Charlie purchased the home for Denise so he could be close to his daughters with her, Sam and Lola. Denise also currently has temporary guardianship of Charlie and Brooke's twin sons, Max and Bob.
"But Brooke insisted that Charlie buy her a house in Mulholland Estates too," the insider says. "She said it wasn't fair that Denise got a house and she didn't."
Charlie complied, the source says, "with the idea that the kids would be in close proximity and he could see them when he wasn't working. They were all getting along at the time, so it seemed like a good idea."
And while Denise had Charlie put her home in a trust for her daughters "so that they will always have a home close to their dad," the source says, "The house Charlie bought for Brooke is in her name only, and not the twins."
Now, Brooke couldn't be happier to have gotten her way. "After Brooke and Charlie divorced, it was always her goal to get another house in Mulholland Estates," the source says. "She loved living there when she was married to Charlie, because it offers privacy and tons of celeb neighbors, including Paris Hilton and guitarist Slash. She couldn't afford to buy a house there on her own and wouldn't have been able to move back into the neighborhood if Charlie hadn't stepped up."
Article continues below advertisement
Though she's still going through rehab after being placed on an involuntary psych hold earlier this year, Brooke is already enjoying her new real estate, according to the source.
"She has been spending time at the house with a sober living companion, but not with the boys," the insider reveals. "She gets day passes from rehab and just hangs out there."
Shockingly, she could have her kids back in her care sooner rather than later, according to our previous report.
"She has impressed social workers from the Los Angeles Department of Children and Family Services," an insider said. "Quite remarkably, given how low she has been, Brooke is now on track to get the boys back."
Still, Charlie "wants the boys to remain with Denise," as RadarOnline.com reported.