Awkward! 'Girls' Star Zosia Mamet's Naughty Red Carpet Comments Make E! Host Giuliana Rancic Blush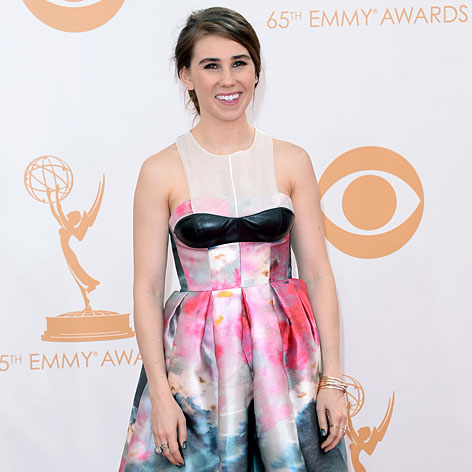 Girls star Zosia Mamet turned the red carpet blue at the Emmys during an appearance on E's Live From The Red Carpet that may go down in TV history.
The quirky actress left Giuliana Rancic lost for words when she recounted a story about oral sex live on TV.
The awkward moment began when Giuliana asked the 25-year-old what has been the strangest story that a fan of the HBO show has told her about their sex life.
Article continues below advertisement
The EI News host said: "You say that strangers like to come up to you and tell you about their sex lives because…of the show.
"What is…one of the more awkward stories that you've heard from someone?"
That's when Zosia – who plays Shoshanna Shapiro in the series – launched into a cheeky story about an old woman's husband performing oral sex on her.
She said: "I had a very old woman come up to me on the subway and tell me that the faces that I made in the first episode when a guy is going down on me, that she still makes those faces when her husband goes down on her."
A horrified Giuliana struggled to respond but let the actress carry on.
Zosia added: "Then I had to sit next to her on the subway for like the next ten stops and she kept on winking at me and I was just like: 'We're good'."
At that point Giuliana couldn't get the actress off the red carpet soon enough and ended the interview by saying: "Well thank you for waking everyone up at home whose watching. Now they're paying attention!"
Her co-hosts Kelly Osbourne and Ross Mathews were in hysterics. Kelly told Giuliana afterwards: "I'm in shock over that interview. That was amazing!"