Eat Fresh? No Thanks! X-Rated Subway 'Sandwich Artists' Add A Little Something Extra To Food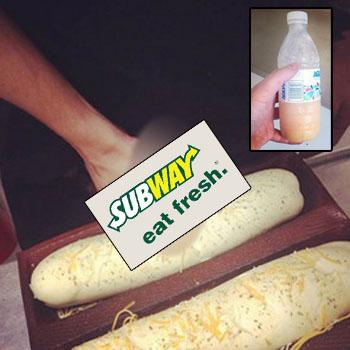 Is every fast food chain a pit of disgusting behavior and poor hygiene?
It's a reasonable question after Wendy's, Taco Bell and others came under fire in recent weeks for nightmarish kitchen behavior by employees. Now, two of Subway's "Sandwich Artists" have been fired for posting images of horrific on-the-job hijinks online.
Employee Cameron Boggs of a Columbus, Ohio, Subway posted a pic of his coworker Ian Jett's exposed genitalia resting on an uncooked loaf of Subway bread on instagram. He wrote, "My name is @ianjett and I will be your sandwich artist today."
Article continues below advertisement
Both men were fired on Monday and a rep for Subway released the following statement: "This isolated incident is not representative of SUBWAY Sandwich Artists™. These actions are not tolerated and the franchisee took immediate action to terminate the two employees involved."