Exclusive
You Belong With Me: 55-Year-Old Man Arrested Near Taylor Swift's Rhode Island Mansion After Passing Security Guard Love Note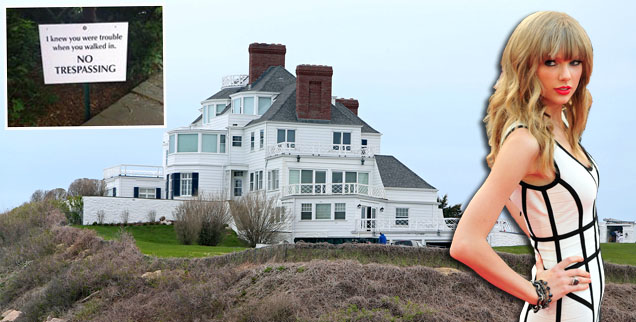 Taylor Swift may be single, but if you are a 55-year-old man, she does not want your number.
Joseph Bernatche of Portland, Maine, learned that lesson the hard way when he was arrested on July 27 after passing a security guard at Taylor's Rhode Island mansion a note with his phone number, asking her to call him.
"We deny that Mr. Bernatche was ever on Ms. Swift's property," his attorney, Michael J. Robinson of Robo Law tells RadarOnline.com exclusively. "The security guards have a job to do and I don't blame them. They do what they think they have to do. In this case, I think they were just being overly zealous, overly cautious."
Article continues below advertisement
Indeed, her security force has a history of overzealous behavior towards potential trespassers.
As for what really went down on July 27, Robinson says, "Mr. Bernatche showed up and parked at the house next to Taylor Swift's. He was carrying a note with his phone number on it. He signals to the security guard to come down and hands him the note. He says, 'I'm not here to trespass, I'm just here to deliver this note. If you would kindly give this to Taylor Swift, that's my sole purpose for being here.'"
"The security guard reads the note, gets the license plate, and my client walks away," Robinson continues. "Bernatche was driving away from Ms. Swift's property when he was stopped and arrested by the Westerly Police."
In all, Robinson says, "We don't think that the town is going to be able to prove willful trespassing on the property."
If they do, Robinson says it's unlikely that Bernatche, a veteran with no record, would see jail time. Robinson insists, "I'd be totally shocked. That would be extremely unusual."
Article continues below advertisement
However, no matter the case's outcome, Bernatche will still have to live with the humiliation of being exposed as a middle-aged Swifty. Bernatche's son, Brian Bernatche, was shocked to hear the news when approached by RadarOnline.com.
"Oh my god, really?! I'm flabbergasted," he told RadarOnline.com exclusively. "He talks about Taylor all the time, but I can't believe he did this. I talked to him last night and he didn't even mention it!"
"He likes her music and whatnot, and he tries to go to her concerts, but I didn't know he was like, that into her," Bernatche revealed. "This is kind of embarrassing! What the heck! He must have driven down there to do this without telling anyone. How strange."
Bernatche has pleaded not guilty but will attend a pre-trial conference in Rhode Island tomorrow morning.
Twenty-two-year-old Lucas Vorsteveld of Vermont was arrested in May for allegedly trying to swim up to Taylor's manse.