Lydia McLaughlin: Vicki Gunvalson's Daughter Briana Stands By Her Man -- Too Much!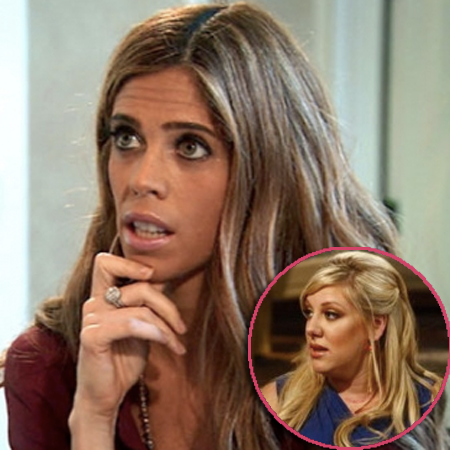 The Real Housewives of Orange County's Lydia McLaughlin calls out Vicki Gunvalson's daughter Briana in her new Bravo blog, and we've got all the details for you right here on RadarOnline.com.
As we previously reported, Monday's episode of the Bravo reality show saw the ladies convene for part three of the reunion, where all of the unpleasantries of the past season are rehashed, and old scabs are picked.
Article continues below advertisement
In an earlier episode where the cast and their families got together for a holiday party at Vicki's, Lydia's eccentric mother Judy Stirling faced the wrath of Briana's husband Ryan Culberson after she had her feet up on their couch, as Ryan blew his stack at Judy and told her to "get the f**k out"of there.
"Ryan shouldn't have yelled at my mother," Lydia said. "End of story. He should apologize for his actions."
Lydia said she was "upset with how Briana acted at the reunion," avoiding direct discussion of the incident while placing the blame on the already-chastened Judy.
"She said she didn't want to talk about 'it,' but then went on to insinuate that my mother was somehow responsible for 'mud and red wine' on the couch," Lydia wrote. "Why wasn't this mysterious glass of red wine ever mentioned before, and where is this magical mud patch my mom supposedly walked through before resting on the couch?"
Lydia said the thing that's "upsetting to me is that there was no acknowledgement that he was out of line" from either husband or wife to her, or her mother.
"Even after watching the scene when it aired on TV … they made excuses like, 'He was stressed out … he was drinking too much.' The reason is irrelevant."
The Dana Point, Calif. native, who's radiated an optimism and kind nature not seen in many Bravo beauties, said, "there is absolutely no excuse for Ryan's behavior" at the affair. She said that she was proud of her mother -- who was "VERY shaken" as result of the incident -- for keeping her cool.