Lydia McLaughlin Calls Out Lauri Peterson, Gretchen Rossi For Rumors About Vicki Gunvalson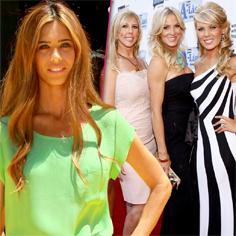 The Real Housewives of Orange County's Lydia McLaughlin stands up for castmate Vicki Gunvalson in her new Bravo blog, and we've got all the details for you right here on RadarOnline.com.
As we previously reported, Monday's episode of the Bravo reality show saw the ladies travel north of the border to Canada, for a ski trip to Whistler, British Columbia, where all hell broke loose after Vicki learned Lauri had been telling everyone within earshot she once walked in on Vicki in a ménage à trois with a man and a woman.
Article continues below advertisement
"The whole day on the mountain was so bizarre to me," Lauri wrote. "As far as the threesome accusations go, I found this so disturbing. I haven't known Vicki for very long, but this just doesn't seem in her character.
Lydia noted that "Lauri's story doesn't even add up," as she admitted "she didn't see what was going on.
"Vicki was watching a movie with her sister and a friend on a business trip," she said. "I'm believing Vicki's word on this one."
Keying in on perhaps the true motives of the pot-stirring, Lydia speculated that "Lauri was just trying to drag Vicki's name through the mud."
Lydia's roll call didn't stop there, however, as she called out Gretchen Rossi for spreading the rumor like wildfire in a strike against Vicki, the cast member who's been on the show since day one, and arguably its' biggest star.
"When Gretchen heard the accusations against Vicki, she should have taken it to Vicki," Lydia wrote. "Instead she told Heather, and then later Tamra."
Article continues below advertisement
Calling herself "a direct person," Lydia, a mother-of-two, said she tries to not "harbor negative thoughts about people."
The Dana Point, Calif. Native, whose been something of a wallflower and peacemaker in her time on the show, explained how she's adapted to the fast-paced rumor mill and never-ending drama of her punchy peers.
"I try to stay out of it but as you hang out with the ladies, you get invested," she wrote. You become part of it and form opinions. No one is perfect. We all have contradictions in our character and are flawed. We also all have a lot of fun together and share laughter.
"I could be way off base on some of my opinions and I have an open mind to grow and learn from this whole experience," she wrote. "That's what life is all about, right?!"
The Real Housewives of Orange County airs on Bravo Monday at 9/8c.