Viva Mexico Fallout: OC Housewife Heather Dubrow 'Shocked The Girls Ditched' Her And Gretchen Rossi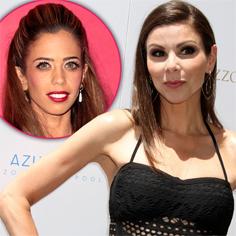 Article continues below advertisement
What Vicki, Tamra and Lydia did was totally out of line.
"NO (WO)MAN LEFT BEHIND," Heather says. "You don't leave people in your group. Especially in a foreign country."
Heather would never do the same thing and leave them stranded.
"We couldn't leave them without a ride home," Heather explains. "I would be too worried how they were getting home."
So, she's aggravated that she and Gretchen had to find their own transportation back to the hotel.
"Gretchen and I had to take a taxi home — also not safe in my opinion," Heather says.
Heather claims that none of the women reached out to her or Gretchen after they departed for the bar.
"I never received a text or voicemail from any of them and I was desperately trying to reach them," she explains. "I know Vicki was talking about Andale's bar, but Gretchen and I had no idea where that was or how far and I was not walking around Puerto Vallarta trying to guess where they ended up."
Article continues below advertisement
But one of the co-conspirators, Lydia, says that she did try to get in touch with the girls they left behind.
"I did text Heather and called the restaurant and asked the hostess to relay to Gretchen and Heather that they should meet us at the bar," she writes in her blog. "I bought them headbands and I really did expect them to show up. It wasn't a secret where we were going. Vicki said she wanted to go to Andalaes maybe 15 times."
Whether or not Lydia did "call" and/or "text," she does admit that what they did to Heather and Gretchen was wrong.
"In retrospect, we should have just waited for them," she says. "It was lame that we didn't and you will see in next week's episode that we apologize for being thoughtless."
Hopefully Lydia is right about the apology; otherwise it's going to be hard for her to maintain her "friendship whisperer" image.