New RHOC Cast Member Lydia McLaughlin At War With Gretchen Rossi -- 'It's Hard For Me To Trust Her'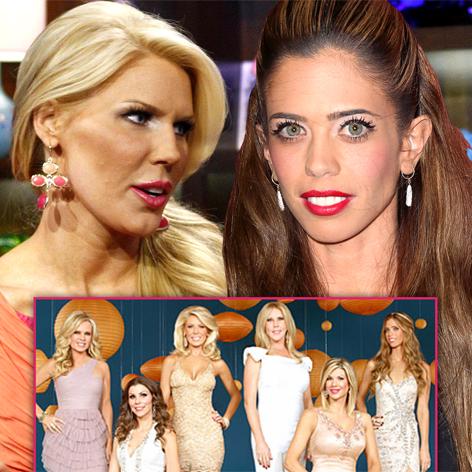 She has only been on the air for a few weeks, but Real Housewives of Orange County star Lydia McLaughlin is already making enemies, and RadarOnline.com has details on the heated animosity between the new girl on the block and nemesis Gretchen Rossi.
"I am not that close with Gretchen, I feel like it is hard for me to trust her," revealed the budding reality star in a conference call with Radar on Monday.
Article continues below advertisement
"We will have conversations and I feel like things are one way, then I'll read her blog that week and it is the exact opposite from what we just talked about… so she confuses me sometimes."
When asked about the drama that has already unfolded during season eight, including getting a chilly reception from Rossi when she arrived at the opening of Tamra Barney's new gym, CUT Fitness, with Alexis Bellino, the 32-year-old Canadian native replied:
"Can you say deer in the headlights? She had said, 'Oh yes, the girls don't like me!' But I have been around other girls and it never ends up with 'get the f**k out,' and 'please don't hit me,'" she exclaimed. "So no – I had no idea what I was walking into. I probably wouldn't have walked into it had I known!
"The next episode you will see I kind of try to get to the bottom of it from Alexis. It is hard to get to the bottom of why they all can't stand each other, it's been four or five years of it," said the married mother of two young sons.
Article continues below advertisement
As for Gretchen's controversial new fiancé, Slade Smiley, there is no love lost between him and Lydia either!
"Slade and I definitely aren't the greatest of friends, which you will see this season. We have a few words with each other," explained McLaughlin, still diplomatically expressing her congratulations for the happy couple's engagement announcement earlier this month.
"I think that they love each other and support each other, so I am excited that they are getting married and I actually didn't hear about their engagement except through the press."
But it's not all war and cat fights for the jewelry boutique owner and editor of Beverly Hills Lifestyle Magazine, who has already made solid friends with Tamra, Alexis and Heather Dubrow.
"I am close to several of the ladies, I've made some really good friends through this experience. I called Tamra and got some advice from her, especially when some of the ladies are calling upset with me – I feel like she's dealt with that before! I feel like she is a genuine friend," McLaughlin revealed.
Article continues below advertisement
"I also really like Alexis and Heather. I have hung out at Heather's home when we aren't on camera and we've been to see some movies together so I feel like she is a true, genuine friend," she said, adding that – unlike some people on the show – her pals, "are genuine, don't twist my words and they get me."
McLaughlin definitely did some soul searching with husband, Doug McLaughlin, before signing her private life away revealing that at first she said "No," when asked to appear on the hit Bravo show but then realized "that I could just be myself.
"I kind of had an epiphany. Someone said, 'At the end of your life you never regret the safe roads that you took, you always wonder 'what if?' on all the risks that you could have taken, and I felt like that was exactly for me. If it was a horrible experience, I didn't have to do it again," she concluded.
"I just decided to take the leap and try it out."
Follow Lydia's leap of faith when the new episode of Real Housewives of Orange County airs Monday on Bravo.