Alexis Bellino: 'I Was Crushed' By Tamra Barney's Bullying At Dinner Party From Hell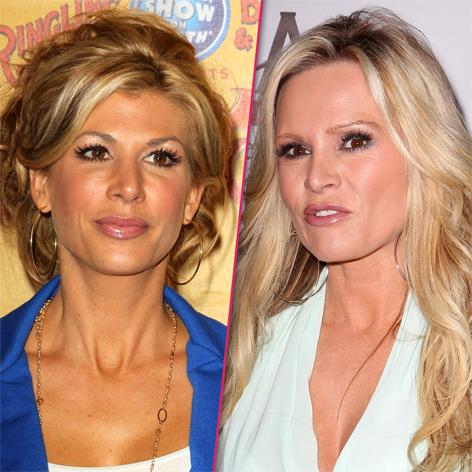 After her showdown with Tamra Barney on Monday night's Real Housewives of Orange County, Alexis Bellino took to her Bravo blog Tuesday and explained her side of things before tying an important social issue into said events.
As RadarOnline.com previously reported, the reality rivals clashed after Vicki Gunvalson brought Alexis to the bash, which was held to commemorate the opening of Tamra's new gym; while Tamra seemed content with Vicki's decision to bring Alexis, seeing her in person seemed to bring out the claws, resulting in a confrontation in which Alexis called Tamra a bully.
Article continues below advertisement
Alexis -- who was told by Tamra to "get the f*ck out" of her dinner party -- said it took her pal Vicki "over 45 minutes to convince me to go;" and she only agreed to after Vicki "looked at her with tears in her eyes," and explained how she felt isolated from the rest of the cast when she went to events solo.
"So, I put her feelings ahead of my better judgement and I said I would go," Alexis said. "If I can do anything to prevent someone else from experiencing a terrible feeling like that, I will do it. My gut told me no, but my heart told me, 'Yes,' and I followed my heart.
"I was going to support Vicki and I was proud of Tamra's new business."
After the ladies made their initial pleasantries, Alexis said the awkwardness set in when she heard Tamra utter several "under-the-breath comments."
It then turned to searing uncomfortabilitly when Vicki thanked Tamra for allowing her to attend, and Gretchen Rossi jumped on her also, saying she was "asking for it" by showing up.
When the full screaming match ensued, Alexis said in retrospect, she "should have walked out … but … was in defense mode."
Article continues below advertisement
"Tamra, Gretchen, and Heather are all screaming at me," she wrote. "I am scared Tamra is going to hit me when she walks over to my chair, and then my ex-friend is clapping while I'm getting thrown out of the party. I was crushed. I felt like I was at that lunchroom table at that moment. I was humiliated, yet so relieved to get out of that environment.
She continued, "I was emotionally and mentally prepared to be there for Vicki that night and stand by her until the end, but honestly I was glad to leave early."
Despite her obvious status as a target, Alexis was quick to say she's not a victim
"Through this experience, I am stronger than ever," she wrote. "God allows us to go through certain situations in our life to build character and make us stronger, and that is exactly what has happened to me … being bullied, teamed up on, ganged up, attacked, outnumbered, it's all semantics. It's unacceptable."
She then launched into a detailed and impassioned rant about the ills of bullying, wrapping things up by saying, "If you or anyone you know is being bullied, tell someone, get help, reach out. There are people out there that can help you. You are not alone."
Watch the video on RadarOnline.com
The Real Housewives of Orange County airs on Bravo Monday at 8/7c.