Exclusive
Michael Lohan: Lindsay Was Not Wasted With 'The Wanted' Singer Max George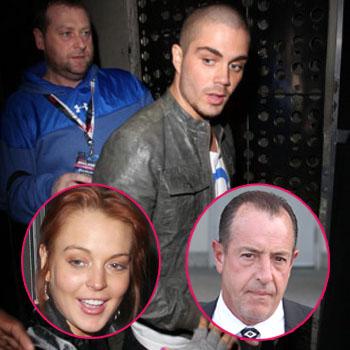 Lindsay Lohan's late night party with her ex-flame Max George from The Wanted was reportedly such a long night that when she was spotted heading home she looked "beat up," but her father says that is a "total lie."
Michael Lohan defended his 27-year-old daughter, telling RadarOnline.com that he had inside information about the night and that the reports are all wrong.
"The story in the NY Post is a total lie," Michael said.
Article continues below advertisement
"To begin with, Lindsay was asked to go out of town with Max and she thought it was a bad idea. I spoke to people with her who said she did not drink and I even spoke to her and she was absolutely fine.
"The people who reported that are evil, liars and just looking to make her look bad. If the article has any merit what the people that reported this were so forthright, why didn't they give their names? I'd love to speaker to them myself. Its funny how she's doing so well and people I'm looking for anything to try to take her down."
According to the report, "The party went on all night long and was so loud that guests were complaining."
"Lindsay was there with Max George. The Wanted have been staying at the Mondrian for days, and Lindsay, who briefly dated Max a while back, was partying with the band."
The insider said that LiLo and her sister Ali waited in the hotel lobby, and when the sisters met up with the boy band, bedlam ensued.
"There were so many complaints about the noise that hotel staff had to shut the party down and Lindsay had to be taken out of there by security at 7 a.m," the insider said. "People who saw Lindsay when she left the hotel said she looked a total mess … she looked so beat up."