Aubrey O'Day Slams Lindsay Lohan, Says She's Rude -- But Loves Chris Brown And Says He's 'Incredibly Talented'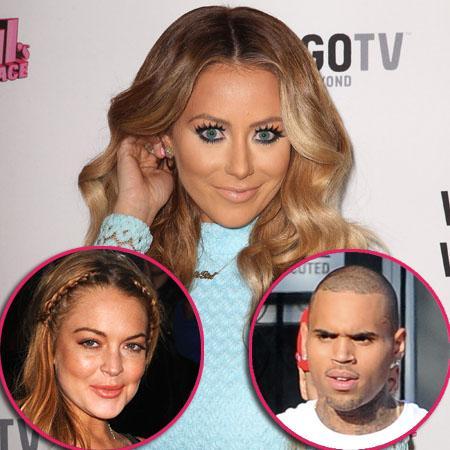 Former Celebrity Apprentice contestant Aubrey O'Day didn't hold back during a recent radio interview when it came to her thoughts on Lindsay Lohan, calling her "rude," and RadarOnline.com has the audio clip.
Aubrey, 29, did an interview on Thursday afternoon with DomNnate Radio out of Lynchburg, Virg. and told the hosts she didn't love Lindsay -- but thinks Chris Brown is "incredibly talented."
"I met her in a bathroom one time and she was kind of rude," Aubrey said of her one-time encounter with the 27-year-old starlet.
Article continues below advertisement
"She didn't tip the woman, and told a fan she'd come back and take a photo with them and never did. I don't know, I don't love that."
Ouch. But she had nothing but nice things to say when asked about Chris.
"I really respect Chris Brown as an artist. I think he's so incredibly really talented and I think whatever has happened, and the personal obsession that people have with him, is unfortunate," Aubrey said.
"It's his personal business, his life journey to correct and make better. Artistically, I have nothing to say except kudos and respect to Chris Brown's voice, dancing skills, his talent as an artist and his painting. He is an inspiring artist."
His painting?
Aubrey must be talking about the graffiti the 24-year-old illegally painted over a wall by the Los Angeles River in Downtown LA in 2009 and then showcased his talents again in 2013 when he covered his Hollywood Hills home in graffiti.
"In regards to the comments of Aubrey O'Day, the DomNnate radio show does not endorse accusations of Lindsay Lohan being rude," the radio station told Radar in a statement.
"Additionally, our hosts Domenick Nati and Nate Foutz maintain a neutral opinion of Chris Brown's music, however they do have a mutual disapproval of Chris Brown's history of domestic violence."
youtube=https://www.youtube.com/watch?v=CkZ3Vl1dXmU&w=420&h=315