Exclusive
Lady Gaga's Dad Goes On Bizarre Twitter Attack After Health Dept. Report Reveals Cockroaches In His Restaurant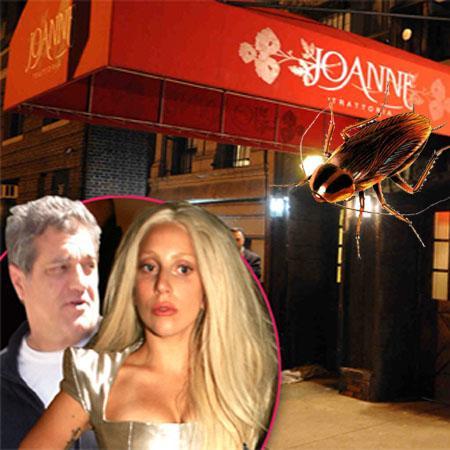 Article continues below advertisement
This time, Joe had received a hygiene report from the New York Department of Health who fined him $324 and said they'd found dead cockroaches in the diner.
Joe immediately took to Twitter to mock the report -- and tried to laugh off the cockroach incident.
"As always, 2 days after the DOH inspection, we received a letter from NYC with a settlent offer to reduce the financial penalties $324," Joe tweeted.
"Re-read the report today. The INSPECTOR States 'I observed 3 Dead American Cockroaches'. How did he know? They were dead and not talking."
Disgruntled Joe even posted a picture of himself wearing a rat's mask and telling his 56,553 followers that he was a 'Sicilian rat.'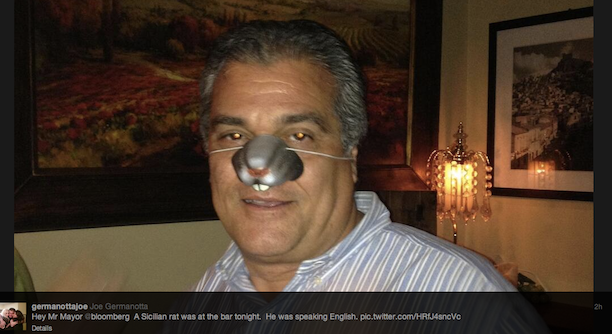 Joe wrote, "Hey Mr Mayor @bloomberg A Sicilian rat was at the bar tonight. He was speaking English."
As RadarOnline.com first reported last week, patrons of the NYC restaurant were shocked to see rodents roaming around tables inside the eatery and in the patio area of the establishment on the evening of July 31.
Article continues below advertisement
Ironically, on July 31, the restaurant was upgraded to 'A' status – and Joe went on to tweet about his victory, saying, "Were got it back. Never give up!"
He then went after his critics tweeting: "Got its A grade back. funny how @nypost doesn't cover that. Where's Mr Potatohead now?"
The Gaga family opened the restaurant in February last year to appalling reviews from critics.
One reviewer accused the Italian restaurant of serving "calamari like leather" and it was like eating "airplane food."
The restaurant is named after Gaga's aunt Joanne, a painter who died of lupus at the age of 19, and is the one relative the pop icon says was her "inspiration."