Exclusive
Radar Photos EXPOSING Plague Of Mice Inside Lady Gaga's Family Restaurant Ignite Health Dept. Investigation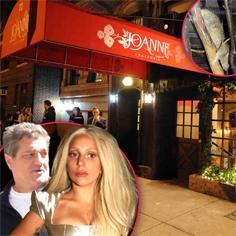 Lady Gaga's dad Joe Germanotta has gone on an extraordinary Twitter rant after health inspectors visited his New York restaurant Tuesday because of an infestation of mice.
Joe and his pop star daughter own the upscale eaterie Joanne Trattoria, which has been plagued with hygiene problems ever since it opened earlier last year. Only last week, as Radar revealed, the restaurant had mice running around the kitchens and tables.
Article continues below advertisement
On the back of this, the New York Health Department paid Joe a visit on Tuesday, much to his disgust, as he told his 56,553 Twitter followers. This is the fourth visit in two months and the restaurant has being up and down the health grades from as low as C.
He Tweeted: 'NY DOH here again. Artem Zoubtov, DOH inspector came in tonight, 4xs in 2 months. I must be the only restaurant in NYC.'
Joe lashed out at the inspector and called his two supervisors, but claimed he couldn't understand them, comments that could be interpreted as racist.
He then went onto attack current New York Mayor Michael Bloomberg and told his followers that the city's powers are threatening his livelihood and other restaurants in the area.
He Tweeted: 'Why don't all restaurants send @Bloomberg $2,260.87 and leave us alone. There are 23,000 restaurants.
Then again minutes later: 'This is a tragedy. We serve tourists and neighbors in NYC and fear the city we love. We spend our savings to follow dreams.
Article continues below advertisement
'Stop this nonsense and make this a tax we can plan for.
'What would it be like to visit ROME, FRANCE, MUNICH, NORMANDY, CAPE TOWN, DUBLIN, and BUENOS AIRES for food. And the DOH shut them down
'We will be here regardless of your efforts to destroy us.
'Please ask @bloomberg to stop? @ChrisCQuinn or @billdeblasio. Decision is clear. Vote for Deblasio and Scott Stringer'
All in all, he posted 15 Tweets in the space of an hour, but he has only himself to blame for the latest health episode.
Last week, Radar published photos from a photographer who took pictures at Joanne Trattoria - which is situated next to Central Park - of rodents roaming around tables. At one point, diners were pointing at the mice in horror and taking pictures while still trying to enjoy their pastas and salads.
The Gaga family opened the restaurant in February last year to appalling reviews from critics.
One reviewer accused the Italian restaurant of serving 'calamari like leather' and it was like eating 'airplane food.'
Article continues below advertisement
In June, the restaurant hit problems when it was downgraded to B status by the New York health department.
It's not the first time dad Joe has been on a Twitter rant. When his restaurant was downgraded he went on a Twitter rant and blamed the bad hygiene report on having 'one bad potato' in a storage bin of dozens of veggies. Ironically, the restaurant was upgraded back to A status again – and Joe went on to tweet about his victory, saying: 'Were got it back. Never give up!'
He then went onto slag off it's critics tweeting: 'Got its A grade back. funny how @nypost doesn't cover that. Where's Mr Potatohead now?'
The restaurant is named after Gaga's aunt Joanne, a painter who died of lupus at the age of 19, and is the one relative the pop icon says was her 'inspiration'.
Chef Art Smith, formerly a personal chef to various celebrities, teamed up with Gaga's father Joe to open the restaurant, with Joe telling the New York Daily News: 'This has been a lifelong dream, and I couldn't be happier that it's finally happening.'