Exclusive
Infested With Mice! Lady Gaga's Restaurant Overrun By Rodents On The Same Day Health Inspectors Declared It's Safe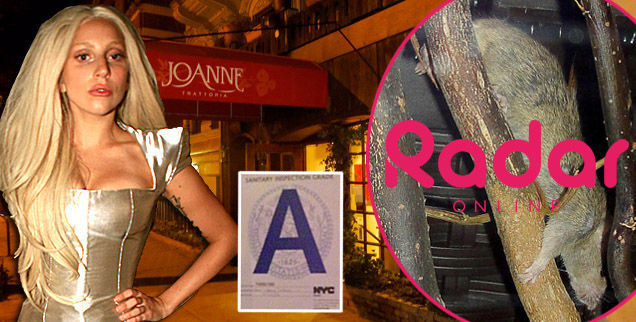 Lady Gaga's exclusive New York City restaurant is infested with mice, seen by horrified diners on the very day her dad boasted about it being given a full bill of health.
Patrons at Joanne Trattoria were shocked to see rodents roaming around tables inside the eatery and in the patio area of the Central Park-adjacent establishment on the evening of July 31.
At one point, diners were pointing at the mice in horror and taking pictures while still trying to enjoy their pastas and salads.
Article continues below advertisement
One customer managed to take photos of the mice, which were coming into the restaurant through a hole in the wall next to the patio and were nibbling on bits of bread on the floor and even getting up on tables!
The Gaga family opened the restaurant in February, 2012 to appalling reviews .
One food critic accused the Italian restaurant of serving "calamari like leather" and it was like eating "airplane food."
In June, the restaurant ran into new problems when it was downgraded to a 'B' grade by the New York health department.
Dad Joe Germanotta went on a Twitter rant and blamed the bad hygiene report on having "one bad potato" in a storage bin of dozens of veggies.
Ironically, on July 31, the restaurant was upgraded back to 'A' status again - and Joe went on to tweet about his victory, saying: "Were got it back. Never give up!"
He then went after his critics tweeting: "Got its A grade back. funny how @nypost doesn't cover that. Where's Mr Potatohead now?"
The restaurant is named after Gaga's aunt Joanne, a painter who died of lupus at the age of 19, and is the one relative the pop icon says was her "inspiration."
Chef Art Smith teamed up with Gaga's father, Joe, to open the restaurant, with Joe telling the New York Daily News: "This has been a lifelong dream, and I couldn't be happier that it's finally happening."