Exclusive
Male Model Issued Ultimatum To Kourtney Kardashian Before Filing Paternity Suit: 'We Both Know That Mason Is My Son'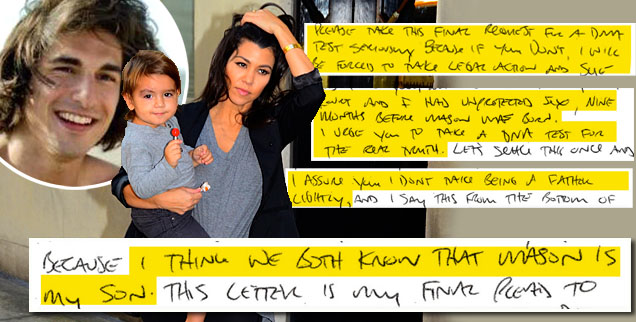 Before he slapped her with a paternity lawsuit, the male model claiming to be the father of Kourtney Kardashian's son Mason wrote an impassioned letter in which he begged the reality star to submit the three-year-old to a DNA test, RadarOnline.com has learned.
In the missive -- dated April 23 -- Michael Girgenti threatened Kourtney, 34, that if she failed to meet his demand, he would be forced to ask the courts to intervene.
Article continues below advertisement
"My attentions sic are not to hurt the family you've created with Scott Disick," wrote Girgenti, who last week filed paperwork in a Los Angeles court asking for joint custody of Mason Dash Disick. "But at the same time, Mason deserves to know the truth."
The 26-year-old handsome model -- who has claimed that he had unprotected sex with Kourtney nine months before Mason was born -- went on to profess his love of family and announce his plans to take care of his would-be child.
"I assure you I don't take being a father lightly," he noted in the letter, obtained by Radar. "I will be a great father to Mason."
"Please take this final request for a DNA test seriously," he concluded, adding: "Because if you don't, I will be forced to take legal action and sue."
In an exclusive interview with , Michael explained his intentions behind the letter.
"This is Kourtney's last chance," he said, earlier this year. "My next step will be to take her to court and sue her for a paternity test. I'm tired of not knowing if Mason is my child and I want the constant wondering to end."
Article continues below advertisement
Indeed, it will: A hearing for the case was set by a judge for later in August.
According to Kourtney, Girgenti is only trying to heighten his profile and fatten his wallet.
The star's lawyer Todd Wilson said Girgenti "has been selling false and fabricated stories to the tabloids for years about Kourtney Kardashian and her son, Mason," noting that "Scott Disick is Mason's father."
"We have not seen the reported court filing, but we are informed that this individual has been seeking to get paid to publish his ridiculous pleading," Wilson said.
Wilson called Girgenti's claim "absurd" and dubbed the suit "simply another shameful attempt to gain publicity and profit from fictional stories about my client."
This much is true: Kourtney met Girgenti in August 2008 when they posed for a steamy S&M-themed photo shoot for 944, a now-defunct lifestyle magazine, which was chronicled on Keeping Up with the Kardashians.
Michael previously said that the reality TV star was extremely flirty during the sexy shoot and the two exchanged contact information.
Article continues below advertisement
Still, she was dating Scott at the time, so they only communicated casually via BlackBerry Messenger for the next few months.
Then, in early March 2009, according to Girgenti, Kourtney reached out to him and they met up twice. During her second late-night visit to his Glendale, Calif., apartment, Michael alleged he and Kourtney had unprotected sex.
Kourtney "helped me undress and we fell into bed" for 20 minutes of "great sex," he has alleged.
The next day, Girgenti claimed, the E! star messaged him, saying: "Last night was so much fun. But Scott's bugging me again and I don't know what to do."
That was the last time he heard from her, Girgenti has claimed. She never responded to the ultimatum in the letter.