Trapped By A Madman? Kim Kardashian A 'Virtual Prisoner' As Kanye West Reportedly Tries 'To Control Her Every Move'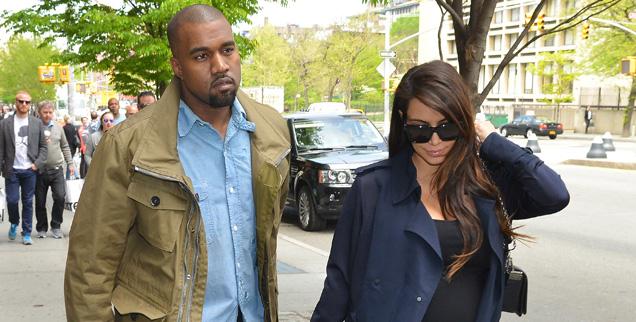 Kanye West is aggressively micromanaging every aspect of his baby mama Kim Kardashian's life, as an insider says the socialite is "walking on eggshells" -- and staying indoors -- to appease the controlling hip-hop star.
"She has to do what he says -- or else," a source told In Touch, in an article that claims Kim has been "trapped by a madman" who's doing his all to control her every move. "She knows the littlest thing can set him off. She knows not to push Kanye too far … she's doing her best to keep him happy."
Article continues below advertisement
Since the birth of his daughter North West June 15, a source told the magazine the Paranoid singer has "brought in more security around the house and won't let Kim leave."
The intrusion sets into everything from what Kim's wearing, to what she's tweeting, insiders say.
"When the time comes for her to step out into public, he wants her to be wearing outfits he picked out for her," a source said. "He's telling her sisters, mom -- everyone -- what they can and cannot post on twitter."
As for Kim's brief taped appearance on her mother's talk show last week, a source says the mercurial singer likely didn't approve.
"He certainly wouldn't have wanted her to go onto Kris' show," he said.
A separate source said Kim's "fame is a huge bone of contention in their relationship," and an issue that won't be going away anytime soon, as "fame is in Kim's blood."