Exclusive
'Teen Mom' Shocker: Ex-Pal Claims Farrah Abraham Being Paid To Provide Company To Sugar Daddies -- See The Scandalous Text Message Proof!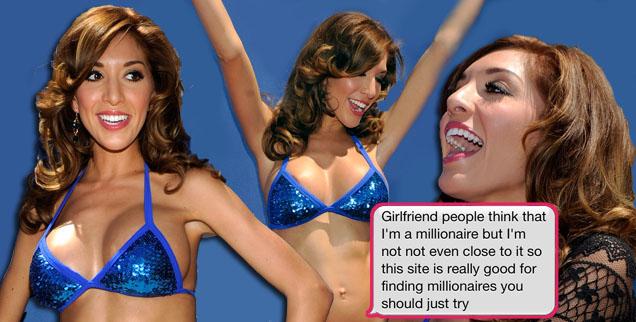 Article continues below advertisement
"She flew out to see him and everything. She said they give you money to like go on vacation or to go shopping. They pay your bills."
As for what these men get in return, RadarOnline.com is not suggesting Farrah is providing anything more than company, but Myla suggests: "When you're meeting up with them, they already know why."
Farrah and Myla became friends when the two shared a manager earlier this year. Before long, Farrah texted Myla trying to convince her to join the sugar daddy site, Myla claims, but she refused.
"Farrah basically was like, 'You have to try this site. I got a guy who's loaded,'" Myla claimed.
"I personally didn't trust it. First, anyone can go on there and claim to be rich."
In text message correspondence exclusively obtained by RadarOnline.com, Farrah admitted using a website to find millionaires -- confessing that she herself is NOT a millionaire!
"Girlfriend, people think that I'm a millionaire but I'm not not even close to it," Farrah wrote. "So this site is really good for you finding millionaires you should just try it you never know."
Article continues below advertisement
Myla responded, "haha sounds like fun but I don't think it's my thing lolZ I care more about the attraction then the $ because what are u gonna do ask for $? It's theirs … I need to actually like a person."
But undeterred, Farrah wrote, "I just emailed you …"
Farrah begged Myla to join her on the "sugar daddies and babies" cruise around Manhattan on August 14, where the two could meet dozens of eligible men.
Again, Myla said no way. She explained, "I was like, 'No I'm gonna pass on that.' I don't have trouble finding guys. And the guys will all think you're a gold digger."
But that's exactly what Farrah is, according to Myla.
"Going on the site shows how desperate she is for money right now," Myla claims. Despite the fact that Farrah says she earned nearly $1 million for filming her sex tape, Farrah Superstar: Backdoor Teen Mom for Vivid.
Article continues below advertisement
"She did not make that much. If she had made that much, she would have shown everyone the check instead of waiting a few weeks to show everyone the residuals check! It's obvious she was lying."
Myla claims, "She makes all of her money off of nightclub bookings and her sugar daddy website. She's doing anything she can. She's desperate."
When quizzed about her use of the site, Farrah initially told RadarOnline.com it was a scam being engineered by an "obsessed" fan.
"As you know there are tons of fakes and scams out there and I can't control my obsessed fans," she said via email.
Then, when confronted with the text messages from Myla, she said they were "made up texts to cause drama."
"Thank you For notifying me of lies and scams by both of these women Myla and her manager as they will be reported," the single mother-of-one said.
"For the record I am a millionaire, secondly I never optioned that the Fatima or 'Myla'… ever be apart of those things and I have no idea why they are sending made up texts to cause drama. I no longer speak to them… I have a real life with real people in it."