Exclusive
Michael Lohan Slams Farrah Abraham: 'When You Look Into Her Eyes All You See Is Black, Darkness, Evil'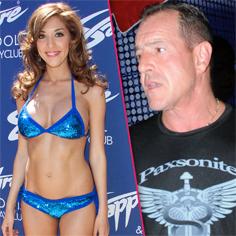 The father of Lindsay Lohan is fighting back against Teen Mom Farrah Abraham, who blamed him for his daughter's issues in a recent interview.
In an interview with OK!, the 22-year-old mother-of-one declared Michael Lohan was a "horrible person" and said she understood why Lindsay, who is currently in court ordered rehab, "has her issues."
"It's sad that Lindsay has to deal with that," Farrah told the magazine.
Article continues below advertisement
"I have a wonderful relationship with all my children and the reason it was strained at times was because I went through a divorce after 19 years of a good marriage. I don't think Farah is in a position to even go near that."
Michael, who is a spokesperson for The Lukens Institute, also claimed Farrah is desperate to be famous and dreams of becoming a Kardashian!
"I feel sorry for her," he said. "She had her day in the sun with her sex tape and her career is going to end here. She thinks she's going to be like the Kardashians. Wow, how delusional!"
MORE ON:
Celebrity Justice
Article continues below advertisement
As for her time in rehab, Farrah rejected the RadarOnline.com report she was asked to cut short her 10-day stay at the high-end facility because she was a "disruptive influence" on other patients.
Counsellors forced her to leave on Monday night - two days before she was expected to finish the course -- because the single mother got involved in an argument with a nurse, tried to take photos of another patient, Tan Mom, during group therapy and upset fellow patients and counsellors, who complained to management that she acted like a bully.
"My old manager, who is a lying b**ch, said I was disruptive," Farrah told FOX News this week.
"Farrah got along with nobody," Michael revealed. "I feel bad for her. As I told her. Dr Lukens, Dr Kelly and I l did so much for her problems, but as a human being it will take a lot more than therapy."
He added, "She was the one who screwed her own manager who had helped her get out that dark "hole" she was in. The manager never screwed me or anyone I know, but I know she sure got screwed by Farrah. As did I."