Arizona Cardinals Cheerleader Accused Of Beating Up On Pro Fighter Boyfriend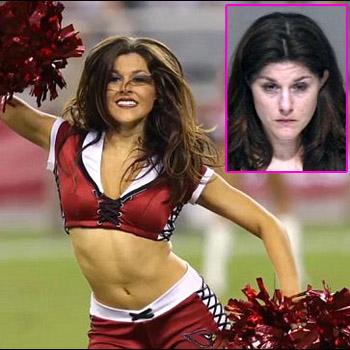 Megan Welter, a Arizona Cardinals cheerleader and Iraq veteran, is accused of hitting and scratching her professional fighter boyfriend, police in Scottsdale, Arizona say.
The 29-year-old was arrested July 20 in connection with disorderly conduct, alleged assault and criminal damage, police said, adding that the incident occurred at her home after the two spent the night at a local watering hole to celebrating Welter's birthday.
Article continues below advertisement
Welter, who went on a 16-month tour in Iraq during her time in the Army, has been dating the man (identified by as Ryan McMahon by Right This Minute for six months.
The outlet added that the boyfriend told cops the relationship was on tense terms after a traumatic event earlier this summer, and the bad blood began to flow after the two engaged in a heated chat over a suspect text message her boyfriend sent to a past lover.
The boyfriend sported scratches all over his person in the wake of the clash, police said, adding that the cheerleader admitted she destroyed his credit card and ID in a fit of rage. The boyfriend told Arizona's 3TBV, "People make mistakes, no one is perfect.
"I honestly want the best for her and I hope that this doesn't take away from the good things that she has done for both the NFL, as well as the service to our country."
"People seem to only remember the bad and it is easy to point fingers while standing on the outside. Now with that said, violence is never the answer and I honestly hope that this can be a learning experience for her and everyone else.