Jersey Shore Town Tries To Ban Snooki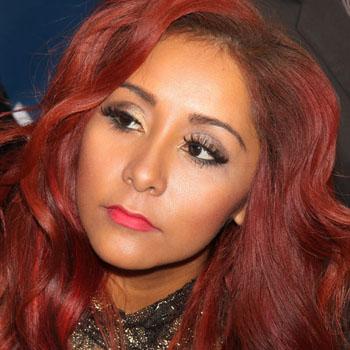 Snooki's days of Tequila shooters and screaming matches with The Situation might be long gone, but the little spitfire's former fast-living reputation proceeds her.
Residents of New Jersey's Pelican Island, according to the Star-Ledger, have been vocal in their opposition to the reality starlet setting up shop there this summer, along with MTV's cameras, to film the spin-off to Jersey Shore, Snooki & J-Woww.
Article continues below advertisement
Many say the community -- which is rebuilding following the destruction of Hurricane Sandy last fall -- doesn't need the sideshow Snooks & Co. would bring into the small town.
"We don't even have time for this nonsense … we don't need another distraction right now," Council President James Byrnes said.
Snooki responded to the comment via her Twitter, writing: "Don't worry James Byrnes, we won't be a 'distraction' towards you & the community, I have a family just like everyone else that enjoys the shore."
Local Ed Hoffman said that filming would attract traffic from cars and onlookers, as "people are going to be coming over by Jet Skis and boats just to look at that house."
"We have nothing against free enterprise or anything like that, but you have to have concerns about where this is going to take place. It's going to take place in a residential neighborhood and it's going to be overwhelming to the residents."