Obama Filmmaker Tapped For Lindsay Lohan's Reality Show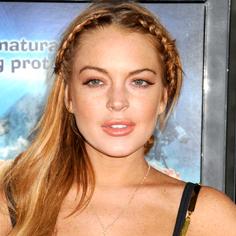 Apparently, Hollywood directors still want to work with Lindsay Lohan.
Even after Paul Schrader, the director of her latest flick, "The Canyons," slammed her hot mess behavior, Obama documentarian Amy Rice has signed up to direct Lilo's reality show, OWN executives announced at the TCAs on Thursday.
Rice was the director behind the 2009 documentary "By the People: The Election of Barack Obama." As such, Lindsay's series is expected to be more straight documentary than tawdry reality show.
Article continues below advertisement
"Part of what makes this opportunity very exciting is because I don't think it's gonna be anything that anybody expects, OWN president Erik Logan told The Associated Press. At this point, he admitted, even OWN is in the dark: Since Lindsay is currently in rehab, she's yet to start pre-filming pow-wows.
The 8-part series will debut in 2014, and Lindsay reportedly netted $2 million for the deal -- $1 million more than she got for baring it all in "Playboy" in 2011.
"We don't comment on any of the deals ..." Logan insisted. "Those are all confidential and proprietary."
But, he continued, "We have a great partner with Lindsay's manager and her team. They've been very collaborative and I think they're all aligned with potentially what we want to accomplish, so we're excited about getting to work about it."
In fact, they see Lindsay as key to the further success of the entire OWN network. "When you find an audience you nurture that audience ...," another OWN president, Sheri Salata said. "...the African American audience is really only a part of it and what you see is a broad brand, a very encompassing brand and so I think Lindsay Lohan is an example of how the brand is going to continue to expand."