Gene Simmons Gets Into Twitter Beef With Michael Jackson Fanatic: 'I Stand By My Words' That He Molested Kids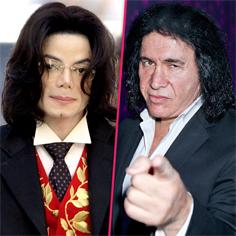 Long-tongued Kiss frontman Gene Simmons has reignited his feud with Michael Jackson fans -- more than three years after he said the King of Pop was a child molester.
Refusing to hold his world famous tongue, the 63-year-old was confronted by a barrage of abuse at the weekend from Jacko supporters after a fan group supporting Wade Robson -- the dancer-choreographer who has filed a claim against Michael Jackson's estate claiming alleged child sex abuse -- reached out to him via the social media site.
Article continues below advertisement
Responding to the tweet, one fan wrote: "Gene Simmons never even met much less knew MJ."
To which the glam rocker retorted, "In 80s, i went put w/Diana Ross, we visited Michael Jackson. You don't know me. Don't make up things about me."
"Visiting is NOT the same thing as knowing!" the fan reacted. "If you don't want things made up about you, stop accusing Michael Jackson of being a "pedophile" as you did!!"
Then, Simmons repeated his claim of 2010 when he infamously said, "Where there's smoke there's fire… There is no question in my mind he molested those kids. Not a doubt."
Furious, the rock legend told the fanatic: "FACT, He paid a family $22 million to settle one case. FACT, He paid $3.5 mil to another family. I stand by my words."
Simmons added, "Millions of people around the world believe he was. Difficult to believe. That does not mean it's untrue."
The full exchange is below:
Simmons' band KISS was dumped from a 2011 Michael Jackson tribute concert following a flood of complaints after he called Jackson a pedophile in a magazine interview.
Accused of molesting a 13-year-old boy in 2005, the Thriller singer was ultimately acquitted of all charges. In 1993, Jackson settled a similar case out of court.