Exclusive
Ex-High Ranking Scientologist Hopes Leah Remini 'Goes Public' With The Reason Why She Left Church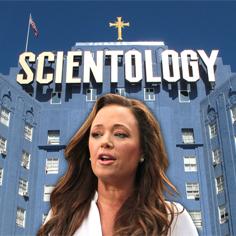 Karen de la Carriere, the ex-wife of the president of Scientology and former church member, tells RadarOnline.com in an exclusive interview that she hopes Leah Remini goes public with her decision to leave the religion.
"I truly hope Leah goes public, in whatever forum she wants to, whether it be doing media interviews, or posting messages on social media, with why she deiced to leave Scientology," de la Carriere tells Radar.
Article continues below advertisement
"Leah is extremely brave to leave the church, especially at this point in her life. It's my hope that Leah reveal her experiences with the church, and what fallout if any she has received from leaving. Leah was at Tom Cruise's wedding to Katie Holmes and knows a lot of information that the public would certainly find extremely interesting."
The King of Queens star's decision to leave Scientology infuriated Kirstie Alley who questioned church executives about what they were going to do about the situation.
Several days after news broke that Remini parted ways with the church, she issued a statement and said, "I wish to share my sincere and heartfelt appreciation for the overwhelming positive response I have received from the media, my colleagues, and from fans around the world. I am truly grateful and thankful for all your support."
De la Carriere was a member of the Sea Org for over 10 years and left that group of Scientology in the late 90s to begin her journey into the OT program. However, she ultimately decided to leave the religion for good in 2010.
Article continues below advertisement
Sadly, Karen's only child, Alexander, a practicing Scientologist with ex-husband, Heber Jentzsch, died last summer.
According to the coroner's report, Alexander died because he took Methadone while battling a very serious pneumonia infection.
Karen wants Leah to know, "she just gained thousands of new friends and supporters. There is a world of support out there for Leah. She has stepped into the light and out of the darkness. She isn't alone, and I'm so proud of her."
When asked for comment from the Church of Scientology, a spokesperson responded, "Please. This is news?"